4 Reasons Audio Visual Companies Need ERP Software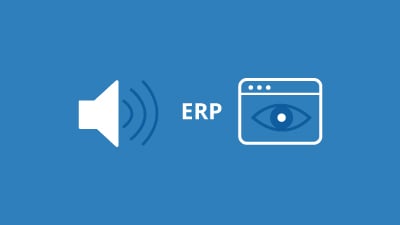 Those in the Audio Visual (AV) industry realized the importance of handling many moving parts simultaneously, but this isn't always as easy as it sounds. To succeed in this rising industry, balancing distribution and inventory management, contract and professional services management, and field service management is key.
AV companies working to compete in a growing industry can benefit from modern business management software that can take them into the coming decade and beyond.
The professional AV industry is positioned to grow from $186 billion in 2008 to $230 billion by 2023, according to the 2018 AV Industry Outlook and Trends Analysis (IOTA) Global Summary produced by AVIXA (Audiovisual and Integrated Experience Association)
Regardless of the organization's focus, each company has the same goal: offering the best service at the most reasonable cost. The decision to implement a cloud-based ERP solution is a solid step forward. Here are 4 reasons an AV company needs ERP software:
1. Data-Driven Insights
The beauty of a cloud-based ERP is the flexibility it creates, enabling teams to work from anywhere and at any time. Real-time updates provide important information and data when it is needed via Internet or Wifi from a smartphone, tablet or laptop. Leading vendors offer systems that can be accessed via any browser or an iOS or Android app.
This technology gives teams working virtually the same conveniences that colleagues working in traditional offices have come to rely on. Imagine the benefit this gives to field service technicians and consultants working primarily at client sites. With access to the same vital product, inventory, warehouse, and sales information, etc., the on-hand associate has the ability to provide information to clients as well as creating the space for profitable upsell opportunities.
Dashboards provide management and functional leaders and their employees with clean graphics to reflect metrics and KPIs (key performance indicators). Drill-down functionality enables staff to dig deeper for more complex insights.
2. Field Access
Being able to log in to the same systems traditional employees do improves the work that virtually-based employees face. Real-time updates keep everyone connected, so all are aware of any issues that could impact typical business expectations.
One streamlined system that runs the accounting system and easily integrates with CRM (customer relationship management) functionality, as well as top applications as determined by industry, can next level an AV company's capabilities. Decision-makers should be sure to inquire with vendors; it's good practice to check references of industry-proven finalists and even visit to see how their systems are running on the ground.
Paper trails are eliminated, with management getting timely updates when approvals are required. This can cut much wasted time off of processes, which will free employees to focus on more relevant work that can help grow the company's bottom line.
3. Improved Processes
There's also the matter of efficiency — and it's not to be taken lightly. Implementing a state-of-the-art system can help the company to pull the most essential data forward as quickly as possible, giving everyone involved a clear vision of those items they have access to via user rights, which are designated by leadership. Staff across the organization can then focus on tasks that better support the company's strategic initiatives.
An organization can improve processes by eliminating human entry errors through the adaption of an ERP system. Fewer mistakes will also make for happier employees! Let their new-found time go toward innovative projects that the company hasn't had time to focus on, or in all likelihood even think about!
Today's AV companies can affordably advance themselves into the modern technological era. The organization's choice vendor should provide a structure to grow with the company's needs; limited amounts of users, subscription options, and the scope of consumption (business transactions and data storage) should all be considered.
4. Customer Experience
Implementing an integrated cloud-based ERP solution will provide AV companies with the ability to improve their customer service. It's important for AV companies to build strong relationships and establish a solid brand reputation that keeps customers coming back as their own needs expand.
An insightful ERP system can help a company, as well as all of its employees, partners, and contractors, to work better with the same information behind them. When everyone is in tune, it's much more likely that customers will feel they are being taken care of and leave with a good feeling and commitment to their purchase.
When customers are told the same insightful information from all parties, expectation is better managed; a company that honors contracts and successfully fulfills orders will have a better chance at gaining repeat customers.
Partner with Cloud 9 ERP Solutions!
As the AV Industry heads into the coming decade, technology is at the forefront. Decision-makers can rest assured that the discussion process around a new ERP solution will be helpful and insightful, not stressful.
Learn more in our on-demand webinar: How to Leverage Business Software for AV + Network Cabling Service Companies.
At Cloud 9 ERP, we specialize in helping growing businesses find the right solution for their needs. We've helped many growing Audio and Visual companies take a step forward, leaving behind outdated systems or launching emerging brands. Learn how we helped M3 Technology Group, an AV systems integration firm, increase their sales revenue and improve operational efficiencies with Acumatica by reading the case study or watching the video below.
Learn more about our capabilities for AV Companies and read customer testimonials. Ready to innovate? Contact us today!