5 Risks of Staying on Legacy ERP Software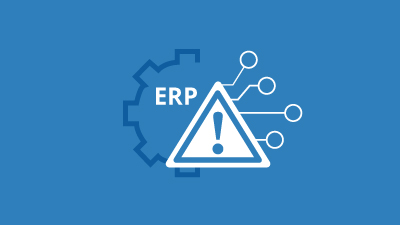 Before we get started, we want you to know that we hear you. We understand. Your current Enterprise Resource Planning (ERP) took a lot of time and money to set up. But, as we both know, changes are heading your way. Now is the time to think hard about what's coming next. It's also a good moment to consider the risks of staying on legacy ERP.
If you've done a good job with your existing, on-premises ERP, it's probably serving your business needs fairly well—at least for now. Continuing with it, however, presents a number of potential problems in the near future, if not already. Here are five of the most serious:
1) It's going to get more expensive
ERP is not cheap, and it probably won't ever be a bargain-basement IT solution if you want good quality. That said, it is quite likely that the costs of running legacy, on-premises ERP are going to start to climb. Certainly, in contrast to cloud-based solutions, the expense of supporting on-premises ERP infrastructure will start to look high. Then, there will be the inevitable hardware update cycle. That's coming, whether it's in two years or three. It will require a new capital expense (CapEx). Software licensing renewals are another expense to consider. Much of this goes away with cloud-based ERP.
2) You'll miss out on agility
Legacy ERP is not usually very flexible. It's challenging to customize, and it tends to break when you make too many changes to it. As business cycles speed up, line of business (LOB) managers may want changes to ERP that will be difficult (or maybe even impossible) to implement within the desired timeframe.
3) Your support may dry up
Support for legacy ERP can be fragile. In cases where the legacy ERP solution has reached its end of life, support may vanish altogether or become very costly. In-house support is similarly vulnerable to employee churn, retirements and so forth. You might end up with an ERP solution that you cannot support.
4)You won't able to integrate fast enough
Even if you're not embarking on a daring mission to digital transformation, you may still want the freedom to integrate your ERP solution with your other applications or with systems at other companies. This is typically a lot harder to do with legacy ERP. Such solutions usually don't feature standards-based APIs and the kind of wizard-based integration capabilities that make modern ERP so easy to connect with other systems.
Learn more in Expanding Your Reach: Why ERP Needs to Integrate.
5) You won't make the most of your ERP data
The data generated by your ERP solution could be quite helpful to your business, if you can extract it for analysis. You can gain insights into your business by studying patterns and historical trends. Again, this is not impossible with legacy ERP, but is invariably a lot more complicated and time-consuming to accomplish than it is with modern systems. Solutions like Acumatica have built-in data analytics, reporting and data visualization features.
Learn more in Are You Getting the Right Insight From Your ERP? What to Look For.
Moving From Legacy to Cloud ERP Software
Replacing legacy ERP is not a trivial matter, but the reality today is that migrating from legacy ERP to new, cloud-based ERP is a lot easier than updating an existing ERP solution on-premises. At Cloud 9 ERP Solutions, we know the ERP journey and have helped companies just like yours to navigate it with ease. Learn more about our process in Charting Your Course to Smarter Business Management Software. If you want to learn how we can help you move off of legacy ERP, let's talk.