With two major product releases every year, Acumatica cloud ERP improvements consistently increase usability, resulting in high end-user satisfaction. In fact, Acumatica has received high marks for their usability and user satisfaction by more than several renowned research and advisory companies.
Here's a sample of 2019 R2 features:
Platform:

Mobile text notification (SMS) for business events and dashboards enhancements
Usability:

Conditional formatting for dashboard tables in addition to simplified company/branch selector
Financials:

Corporate credit card support plus simplified Approval of AR invoices, credit and debit memos
Project Accounting:

Detail Level of the Project Budget along with Project budget forecasts
Inventory and Order Management:

Warehouse Management System (WMS) batch picking plus changing the vendor in Purchase Orders
Field Service:

Service Orders automatically defined as well as Project Accounting integration for service contracts, project schedules and tasks
Manufacturing:

Engineering Change Control (ECC) and MRP improved forecasting
Check out some of our new demo videos to learn more about this release:
Acumatica 2019 R2 - Purchase Order Prepayment Enhancements
Now a user can add purchase orders directly to prepayment documents on the Checks and Payments form. Also, on the Purchase Orders form, a user can create multiple prepayment requests for a purchase order of the Normal or Drop Ship type with the Open or Completed status. Subsequent prepayment requests can be created even if the previous one has not been released. Click here to watch now.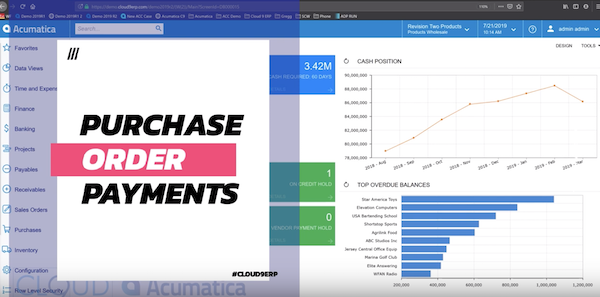 Acumatica 2019 R2 - Accrue Costs for Non Stock Items
Companies may need to post expenses and sales revenue when non-stock items or service items are sold in order to be able to count approximate net income. In Acumatica ERP 2019 R2, the user can now configure a non-stock item so that on release of an SO invoice that contains the nonstock item, the system will post the cost of the non-stock item to the expense account. Click here to watch now.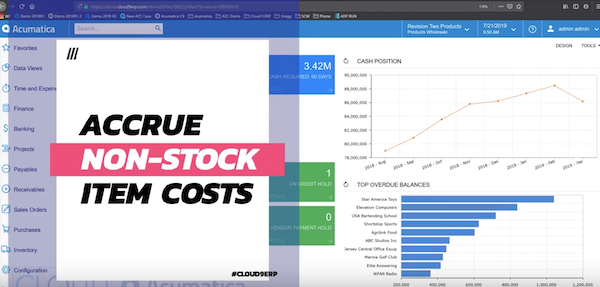 Acumatica 2019 R2 - Predefined User Security Roles
Acumatica 2019 R2 now provides a number of predefined user roles that have been designed for financial departments of companies. These roles, which are stored in the System company, grant access to specific system functionality. With these roles, it is no longer necessary to set up user roles for financial positions from scratch during the system implementation. Click here to watch now.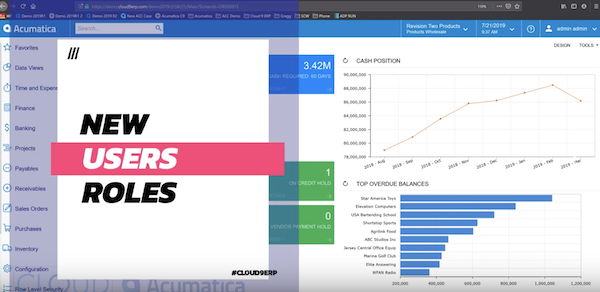 Acumatica 2019 R2 - Corporate Cards With Time and Expenses
Acumatica ERP 2019 R2 supports the use of corporate credit cards. This helps employees to categorize and track the expenses, including the expenses related to a project. Click here to watch now.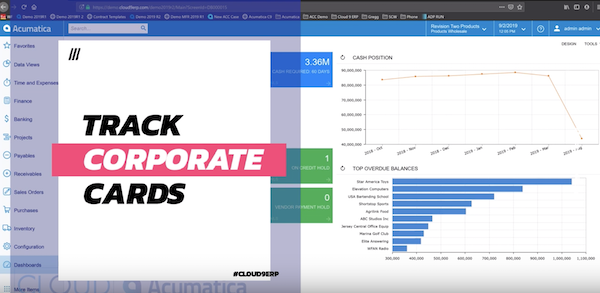 Acumatica 2019 R2 - Calendar Board Improvements
Acumatica ERP 2019 R2 includes the following improvements related to calendar boards including the addition of a new calendar board, the ability to view the schedule of a particular staff member for a year, the change to an Outlook-type appearance for the Month view of a particular staff member, and much more. Click here to watch now.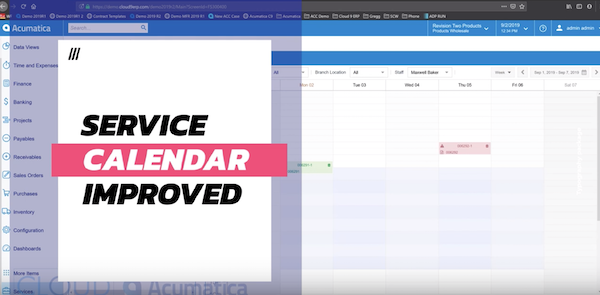 Acumatica 2019 R2 -

Vendor Payment Applications per Bill Line

In many industries, organizations need to track expenses and payments at a granular level—that is, by individual lines of accounts payable bills. Acumatica ERP 2019 R2 introduces the ability to pay accounts payable documents by individual lines. Now, users can choose how they want to apply payments: fully or partially, to the entire document or to individual document lines. Click here to watch now.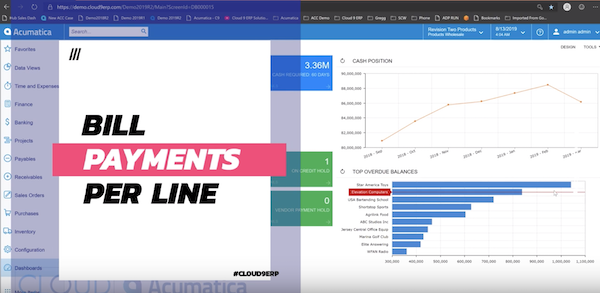 Acumatica 2019 R2 -

Dashboard Pivot Tables and Conditional Formatting

Pivot tables are tremendous time savers by letting users quickly summarize large amounts of data into useful reports. Now in Acumatica ERP 2019 R2, pivot tables can be displayed on dashboards using the Pivot Table Widget. Also, conditional formatting for dashboard table widgets provides the option of specifying the style of rows or columns, including the use of formulas. Click here to watch now.
Acumatica 2019 R2 -

SMS Notification Integration

In Acumatica ERP 2019 R2, the ability to receive notifications about business events has been extended. Now an administrator can configure a mobile text notification about business events to be sent to any interested user defined in the system. A recipient of one of these notifications does not need to have the Acumatica ERP mobile application installed. Click here to watch now.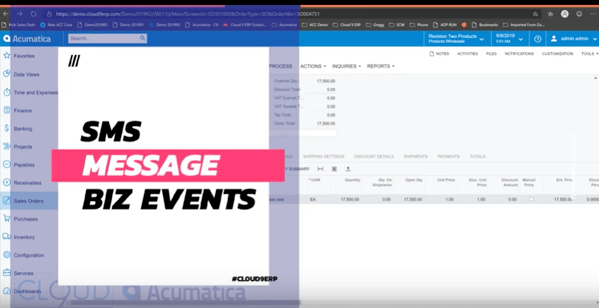 Acumatica 2019 R2 -

Change Vendor on Purchase Order

Acumatica 2019 R2 introduces the ability to change the vendor on purchase orders, enabling buyers to review item prices from multiple vendors and select the vendor for a purchase order. You may want to change the vendor in the existing purchase order—for example, if you want to compare the order total for different vendors, or if the wrong vendor was selected in the purchase order. Click here to watch now.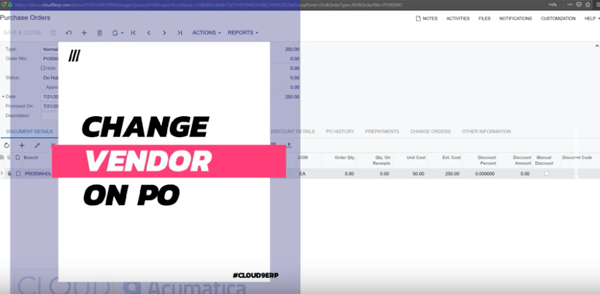 Acumatica 2019 R2 -

Enhanced Customer Payment Applications

Acumatica 2019 R2 introduces the application of payments to particular lines of accounts payable documents. This allows users to assign partial payment to an entire AP document or to individual document lines in various proportions. The system also supports tracking retainage by document (if included). Click here to watch now.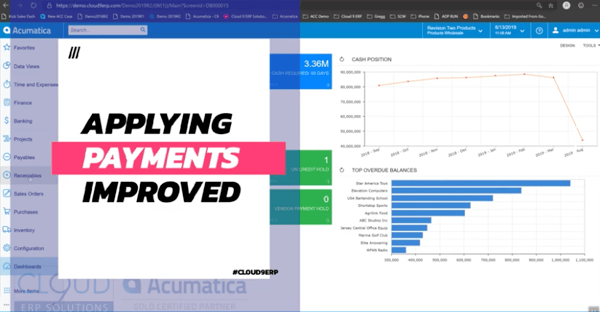 Acumatica 2019 R2 -

Customer Order Number Validations

Acumatica 2019 R2 introduces the validation of customer orders on sales orders automatically checks for unique customer order numbers and manages duplicates. Click here to watch now.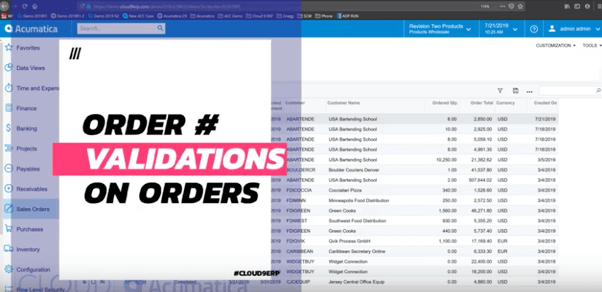 Stay tuned for more Acumatica 2019 R2 demo videos from Cloud 9 ERP Solutions! Join us October 1 in New York for the Acumatica 2019 R2 Launch Event Series. Hear many of the exciting new enhancements to Acumatica 2019 R2 and how it can increase your productivity and accelerate your growth. Learn more or register.