Acumatica 2020 R1: New Demo Videos Available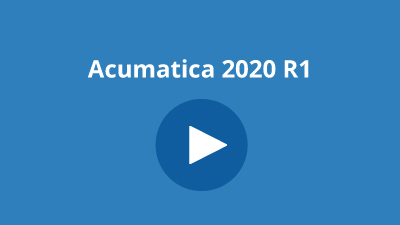 With two major product releases every year, Acumatica Cloud ERP improvements consistently increase usability, resulting in high end-user satisfaction. In fact, Acumatica has received high marks for their usability and user satisfaction by more than several renowned research and advisory companies.
Here's a sample of 2020 R1 features and enhancements:
Usability: Side panels on entry screens, Tab visibility and GI tab reordering, Dashboard caching and auto-refresh, Pivot table percentages and counts
New Modules: Acumatica Payroll, Integrated Commerce with BigCommerce, Advanced Authentication feature switch
Inventory and Order Management: Matrix inventory, WMS wave and batch picking, Commerce smart selling
Manufacturing and Service: Shop floor data collection via scanning, Pre-assign lot/serial numbers, Employee scheduling and what-if, Travel and break time recording, Route optimization
Project and Construction: Vendor portal, Retainage billing cap per project, Transaction reconciliation enhancements
CRM: Lead workflow improvements, Row level security for business accounts, Predefined marketing reports
Platform: Expense receipt from captured image, Auto create bill from email attachment, Web hooks in customization project, Parallel processing for data imports, Capture images to web client using mobile device
Check out some of our new demo videos to learn more about this release:
Acumatica 2020 R1 - Caching of Dashboard Widgets
When a dashboard with many widgets is refreshed or opened, it may take a lot of time to load data for all widgets. In Acumatica 2020 R1, the caching of widget data and the ability to manage the interval to be used for refreshing data on widgets have been implemented, to reduce the time of loading data on widgets.
Click here to watch now.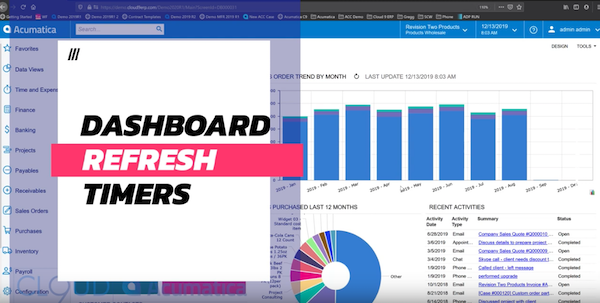 Acumatica 2020 R1 - Enhancements in the Use of the Tab Key
Previously, if a table contained many columns, and a user wanted to navigate to the cell of the last column in the row, the user had to select Tab as many times as there were columns prior to the needed one. With Acumatica ERP 2020 R1, a user can specify which columns in the table must be accessible for keyboard actions and which ones must be skipped by the system.
Click here to watch now.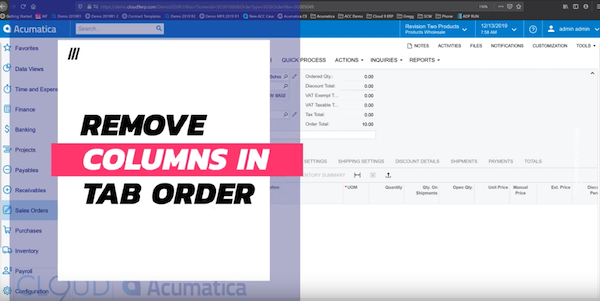 Acumatica 2020 R1 - Percentage of Total in Pivot Tables
In Acumatica 2020 R1, the ability to calculate the percentage of a row or column total has been added. The Show Values As drop-down box has been added to the Properties pane of the Pivot Tables (SM208010) form. By using the options of the box, a user can specify how the system should display values.
Click here to watch now.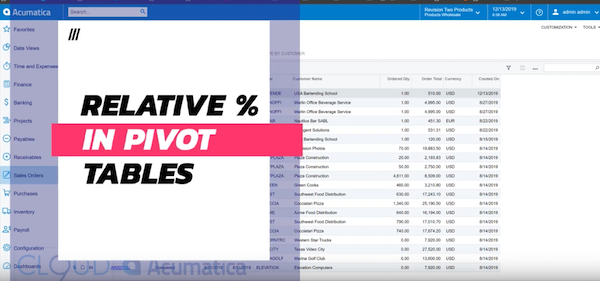 Acumatica 2020 R1 - Important Scenario Improvements
In Acumatica 2020 R1, multiple improvements have been made that affect the configuration and processing of import and export scenarios. Data import by using an import scenario can be sped up if a user turns on parallel execution of the scenario. The parallel processing of an import scenario by the system could be especially useful for data migration during the initial implementation of the system.
Click here to watch now.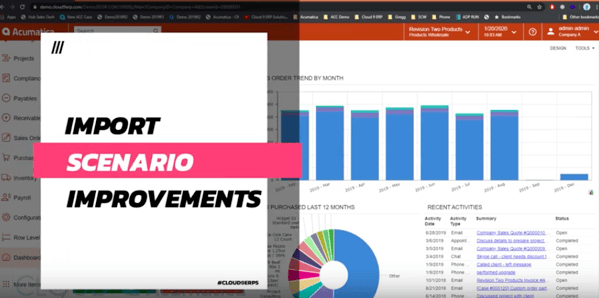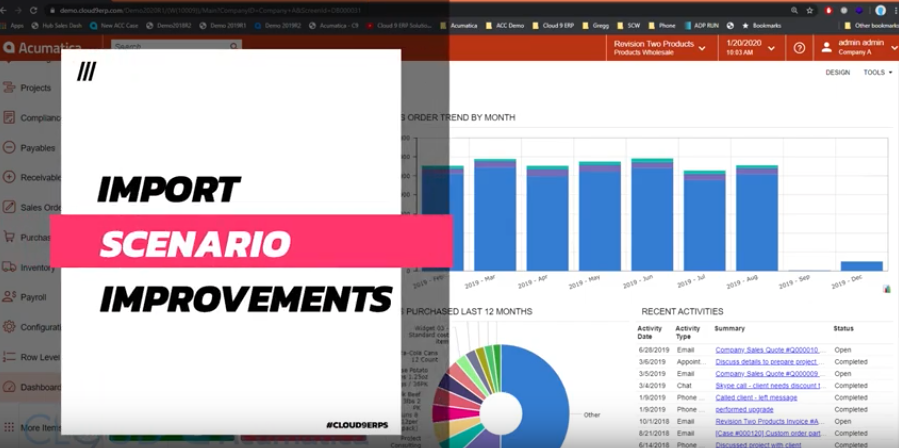 Acumatica 2020 R1 - Item Matrix Inventory
In Acumatica 2020 R1, a new type of items called matrix items has been implemented. Item matrix type items typically have 2 or more attributes that make each SKU unique and they are commonly found in the clothing industry.
Click here to watch now.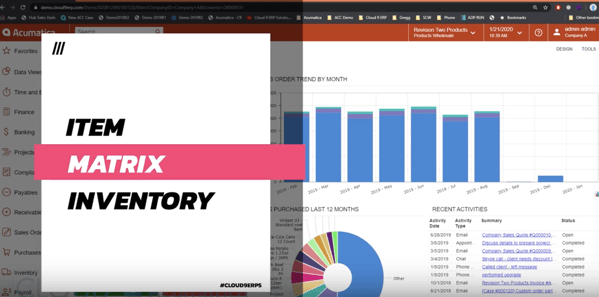 Acumatica 2020 R1 - CRM Workflow Automation
In Acumatica 2020 R1, the processing of opportunities and cases has been redesigned to use a new workflow engine. Quick action buttons allow you to navigate through workflow statuses more easily. The system now automatically assigns an opportunity the applicable status based on user actions, rather than the user needing to manually change the status repeatedly.
Click here to watch now.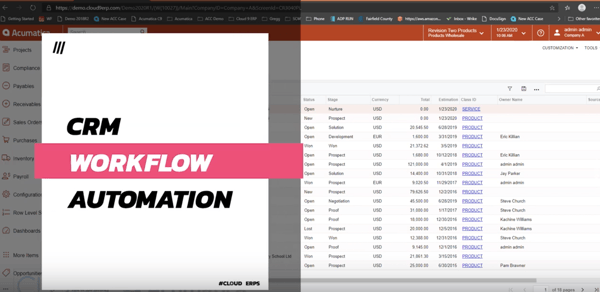 Acumatica 2020 R1 - Cancel and Correct Invoices
Previous versions of Acumatica ERP provided no ability to make changes to SO invoices that had already been released. SO invoices also could not be canceled. Acumatica 2020 R1 introduces new actions that provide the ability to cancel and to correct existing SO invoices with the Open or Closed status.
Click here to watch now.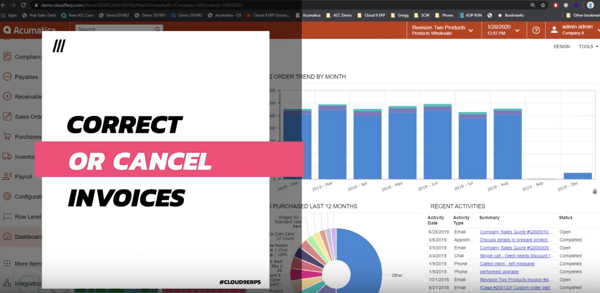 Stay tuned for more Acumatica 2020 R1 demo videos from Cloud 9 ERP Solutions!