Big Things Coming in Acumatica 2021 R1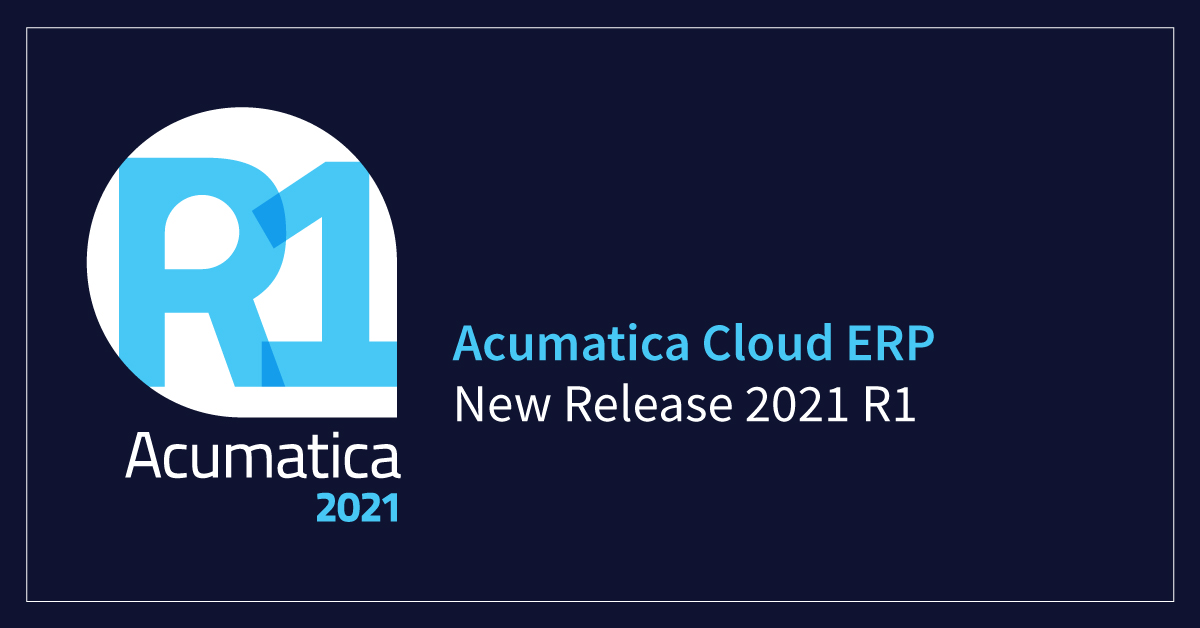 Better usability, functionality, and flexibility are on the horizon for Acumatica users in the coming months. Acumatica's 2021 R1 release is on the horizon and everyone in the system—users, prospects, partners, and analysts—are looking forward to the enhancements and improvements expected in the coming update.
Acumatica Biannual Updates, Three Core Themes
From cross company sales to user defined fields, the Acumatica engineering and R&D teams have been hard at work to make end users' lives easier, deliver productivity enhancements for companies, and push the market forward. These enhancements, delivered twice per year as promised in the company's customer bill of rights, continue to outpace the market and respond to customer needs.
Once again, Acumatica has built the 2021 R1 release around its three core update themes:
Save Time with Superior Usability: Consistently lauded for its incredible user friendliness and welcoming learning curve, Acumatica has continued to focus its efforts on providing a modern experience that helps you work smarter, not harder.
Gain a Competitive Advantage with Best in Class Functionality: Usability is one thing, but without top of the line ERP functionality, even the most usable product falls short. Driven by competitive research and an excellent development team, Acumatica has continued to expand its functionality to stay ahead of the market.
Grow Your Business with a Powerful and Flexible Cloud Platform: Flexibility, usability, and functionality are all impossible without a platform on which to build. Luckily, Acumatica's future-proof cloud platform is built for consistent enhancement and deliver on the promise of performance, scalability, and security.
Looking to learn even more? Be sure to watch our Acumatica 2021 R1 New Features Webinar.
Usability Enhancements: How Acumatica Flattens the (Learning) Curve
You've heard a lot about flattening the curve in 2020, but when it comes to the learning curve, Acumatica has been making ERP accessible since its foundation. Award winning usability once again gets an update as the company maintains its focus on improving its modern user interface and flexible workflows.
Whether it's increasingly comprehensive mobile image recognition functionality built to simplify document and business card scanning process or by facilitating internal and external navigation, 2021 R1 is going to help users deliver their best work in less time.
Providing dozens of smaller improvements, some of the biggest changes to make life easier include the following:
Users will be able to add CRM contacts automatically with mobile image recognition for business cards.
Buyers and leaders will have fewer steps to do with enhanced side panels built to facilitate ordering and visibility.
Users will now have the ability to navigate seamlessly and securely to external URLs from Generic Inquiry (GI) results
Billing, sales, and the like will easily be able to send targeted customer communication through filtered GI results.


Functionality Improvements: Business Done Better
Acumatica is tailor-made for midmarket growth businesses. Knowing this, businesses in the growth state need constant improvement to adapt to the changes and challenges of the market. With focused-yet-flexible industry functionality built around an intelligent financial backbone, Acumatica works to make best in class products for Commerce, Construction, Distribution, Field Service, and Manufacturing companies.
Core Functionality: Improvements to Financials and CRM
The core functionality through which all data flows, financial management is always atop the list of priorities for users and vendors. Acumatica R1 2021 continues to add functionality to the financial management and CRM modules, making a variety of processes more efficient. Among the biggest improvements:
Centralized vendor management designed to help you simplify operations.
Intelligent deduplication technology that will help users reduce errors and improve the quality of CRM data.
Connected functionality allowing for contact tracking will help businesses to facilitate sales and support processes.


Product-Based Business Enhancements:
Distribution and eCommerce
Ecommerce and distribution companies have needed to change and evolve over the course of 2020. Acumatica Distribution edition will make life easier and help companies become more flexible and resilient through its distribution and ecommerce-focused enhancements:
Cross company sales functionality will allow users to manage multiple businesses with ease, automatically creating corresponding purchase orders and sales orders between two internal organizations.
Drop-ship workflows will help businesses to diversify product offerings without taking on additional storage space or management work.
Commerce order risk data will help companies to make sure that buyers aren't going to abandon them after the sale.
Custom fields will increase control and facilitate syncing of data.


Manufacturing
Manufacturing expects to get more local and connected in 2021, and Acumatica is going to facilitate this. Among the many improvements coming soon to Acumatica Manufacturing Edition and in addition to some of the aforementioned enhancements, manufacturing businesses can expect the following:
Arena integration will facilitate product lifecycle management and keep you ahead of your customer needs.
APS capable-to-promise capabilities will help you to ensure your delivery commitments are accurate and reliable.


Improvements for the Field Service Business
Running a field service business is tough. Keeping customers up to date, equipping the right people with the right tools and inventory, and delivering top notch service each play a role in running a successful business. Acumatica continues to make it easier, offering the following major improvements:
AP Bill to Field Service appointment functionality will help you to get a clearer picture of your costs throughout the sales and service process.
Field service invoice correction will make life easier for technicians and customers, helping to boost customer responsiveness and satisfaction.


Built on a Powerful Platform: How Acumatica Ties Everything Together
Acumatica provides a future-proof cloud platform with native mobility, an intuitive user interface, and unique features that connect easily to extended applications with artificial intelligence and machine learning. This true cloud platform is optimized for performance, scalability, and security.
Continuing on its platform enhancements, Acumatica has looked to strengthen AI and ML capabilities, deliver a visually appealing and useful KPI Meter to help track trajectory, and continue its workflow optimization. Here are just a few of the platform enhancements:
A new KPI Meter on dashboards will allow managers to set dynamic goals and easily track progress to completion.
French Canadian localization will help our Quebecois friends to find help more easily.
Acumatica's workflow engine will facilitate and optimize application workflows throughout the Acumatica suite.


Continued Improvement, the Right Partner: Cloud 9 ERP Solutions and Acumatica
Cloud 9 ERP Solutions provides solutions that can bring you game changing control over your business. With our flag ship ERP Solution in conjunction with decades worth of experience in business consulting, we can help your business grow to new heights.
Not only are we a Gold Certified Acumatica Partner, we took home some pretty prestigious awards at last year's Summit, including the Evangelist Partner Award, as well as nominations for Excellence "Time to Value" Award and Excellence "Commerce" Award.
Get to know more about the improvements by following us on social media, watching our 2021 R1 demos, and watching our Acumatica 2021 R1 Webinar and Demo.