Over the past decade, wholesale distribution firms have been exposed to new processes and technologies. While not everyone has made the leap into a modernization initiative, many have.
This… presents a problem. Well, at least for those companies on the back end of the technology spectrum.
Technological Snowballing Creates Two Distinct Futures
If you've ever played Civilization or any similar strategy game, you can generally tell if you've won or lost in the first 75 to 100 turns. Why? Because smart moves in the early game have a multiplicative effect in the late game. For instance, settling or capturing an extra city in the early stages gives you all of the benefits of that investment for the rest of the game.
The same thing goes for your technological investment. A small investment in 2021 will save you money. The money saved could be reinvested in even more cost-saving opportunities later, creating two distinct futures for those in the distribution space.
To put it in context, take two identical warehouses with 50 employees paid at a competitive wage of $15/hour. Company A invests $50,000 in a warehouse management and ERP solution that saves each employee 5 minutes each hour. Company B sticks with the status quo.
5 minutes an hour saved doesn't sound like a lot, but it adds up. Spread the five minutes across 50 employees and that $50,000 investment saves about 12,000 hours and nearly $200,000 per year. After the first year, the $50,000 drops to $10,000 annually and Company A now has roughly $190,000 to play with—just on warehouse staff savings.
In a competitive landscape known for low margins, this means that in five years, those who have embraced technology will look a lot different than those who haven't. The question, which side are you going to be on and which technologies will make life easier?
What Technologies Are Driving Warehouse Modernization and Evolution?
There are many potential technological routes on the way to moving forward. After discussing the core features of WMS software, we would today like to discuss the technologies that this kind of solution enables and the ways that investment positions companies for growth. Broken into better versions of current processes, new technologies, and platforms for connection, here are six things to consider on your warehouse modernization journey.
Technologies to Improve Current Business Practices
There are many ways to improve the things you currently do. Barcodes are great, but companies can either improve or replace them. Paper-based processes give you a physical record, but are often inaccurate or out of date.
From Barcodes to RFID Tags
Considered the first level in warehouse modernization, it's likely that even the smallest distributors have tethered barcode readers and the ability to print barcodes on reports and labels. The question is whether these connect and deliver information.
Simple and disconnected barcoding might help you to keep track of numbers, but integrated solutions help this data flow into other systems. Scanning will flow into inventory. Inventory will update, which can notify ordering or be accessed by sales, ecommerce, and more.
Barcoding, however, can be replaced with RFID, a solution able to deliver even longer-term value. RFID tags provide the same automated data capture features as barcodes with zero human intervention.
From Paper-Based Data Capture to Optical Character Recognition
Paper-based data capture still has a place in many warehouses. It is useful to fill procedural gaps that are difficult to automate. Further, they provide a physical record of transactions and information that back-up digital versions of the data. However, they are not real-time, and they are prone to data entry errors.
This is where OCR Scanning comes in. If you've ever deposited a check by phone, think of this but a lot more effective. OCR Scanning is used in many warehouse environments, especially for scanning information from inbound vendor documents such as bills of lading and packing slips during the receipt of goods process. Now, scanning a document will send the necessary information to the right places and can get up and running with minimal training.
Investments for the Future
From the improved versions of your current systems to the investments you might not have currently, these are the things able to push you forward. AI, voice directed warehousing, and increasingly affordable robotics are finding a home at smaller and smaller warehouses.
Artificial Intelligence and Machine Learning Solutions
Artificial Intelligence (AI) and Machine Learning (ML) promise to improve many warehouse management processes including data capture. With this technology more affordable than ever, distribution businesses can get these solutions up and running with ease, reducing error-prone manual entry and other processes.
For example, a company could turn to ML to facilitate FIFO and reduce expired products. AI could make data capture easy and eliminate packing errors through matching technology.
Voice Recognition and Voice Directed Warehousing
Voice-recognition is another option for automated data capture. Voice directed warehousing (VDW) is newer yet. VDW is more complex to setup but it offers many advantages including hands-free, directed picking and put-away.
Compatible with wearables and delivering access to virtual assistants, chatbots, and more, these solutions can be used for most inventory transactions including packing, shipping, and physical inventory cycle counts.
Robotics and Carousels
Increasingly affordable robotics are improving even small and midsized warehouses. This allows more companies to save on labor costs and reduce the amount of miles that an average warehouse employee needs to walk each day.
From here, companies can go even further with storage carousels. Though initially a large investment, storage carousels can save time and reduce picking errors by automatically picking, sorting, and delivering items to the operator.
The Platforms to Connect Everything: ERP and WMS
Everything listed above is great, but to orchestrate solutions in the modern warehouse, companies need platforms to connect. For this, ERP and WMS are the answer. A modern ERP solution is going to deliver the integration needed for non-warehouse employees—inventory management, ordering, sales, and more, while a warehouse management system delivers new connectivity and integration for the people and machines in each of your warehouse.
Warehouse Management Systems combine multiple automation technologies into a single platform. These technologies include barcoding, RFID, voice, and integration with robotics, carousels, and other warehouse automation technologies. WMS is an excellent option for distributors with larger distribution centers or companies using ERP systems that do not provide warehouse automation functionality without considerable customization.
The Partner to Get You Through: Cloud 9 ERP Solutions
No matter where you are on your technological evolution journey, it's vital to find the right partner. Just as you wouldn't build a new facility without a construction firm experienced in laying a foundation, you shouldn't jump into a modernization initiative without a partner who can do the same.
As an expert in helping companies implement and use Acumatica ERP and WMS software, Cloud 9 ERP Solutions has become a proven leader in the Connecticut area and beyond. At Cloud 9 ERP Solutions, a Gold Certified Acumatica Partner, we have worked with companies like yours to configure and deliver Acumatica Distribution Edition, a product ready and able to handle your challenges.
Get to know more about how we work, who we've helped, and why we've been a leader in the business for nearly three decades by contacting us for a free consultation or watch our Acumatica Distribution demo.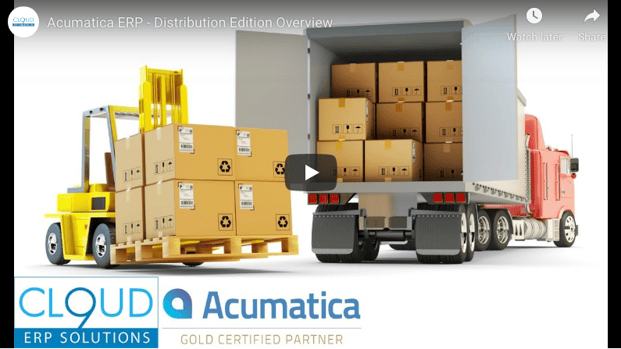 Additional Resources
Six Features to Look for in a Modern Warehouse Management and Distribution ERP
How Acumatica Streamlines Distribution and Encourages Smarter Tracking
How Distributors Can Rebuild and Reinvigorate Vendor Relationships