Six Features to Look for in a Modern Warehouse Management and Distribution ERP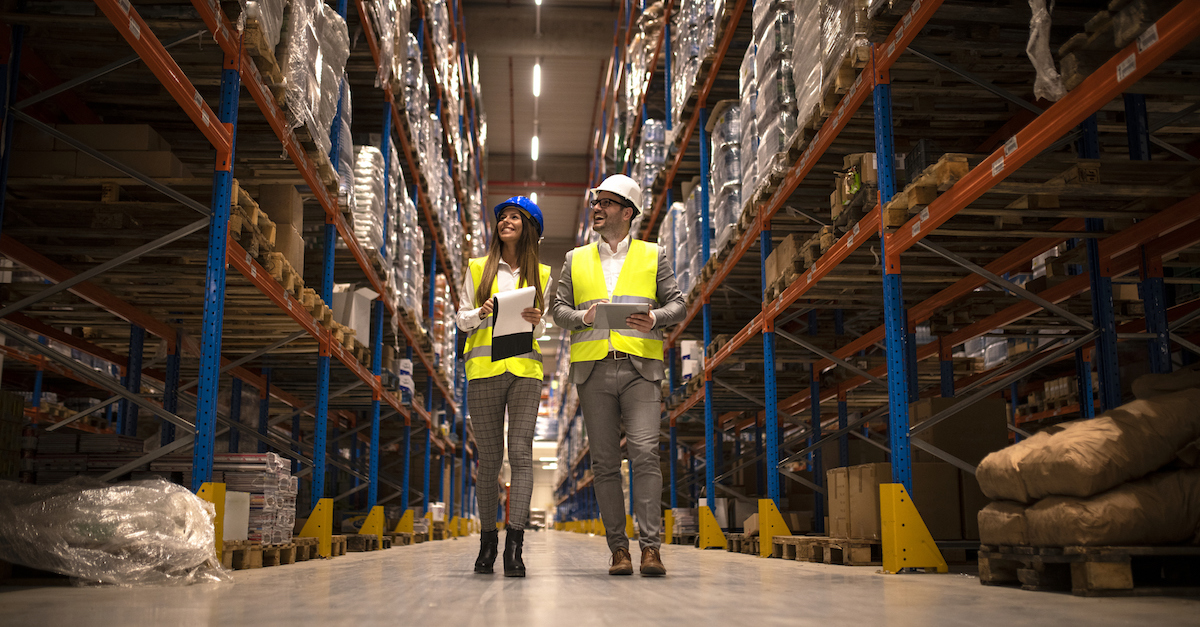 It's not just a landscape of move product and collect money. Success requires flow, and flow requires a connected experience for the entire business. But for growing distribution firms, there comes a point where things start to slow down. Often, growth can turn a once-efficient process into a multi-step nightmare that exposes you to risk. Risk of inaccuracy—in purchasing, fulfilling orders, collecting cash and more.
The Risk of Manual Processes
Too often, manual processes are to blame. Humans—no matter how diligent—are error-prone, and each hand keyed cell or box adds just a little bit more risk. This is especially true in a SKU-based environment where entering BR02122201 instead of BR03122201 could result ordering or shipping in a completely different item.
It could mean that you just ordered 50 pairs of pants when you needed shirts. It could mean you just shipped the wrong item to a customer. It could leave your finance staff backtracking when cost of goods sold doesn't align with sales of a particular item.
None of these are something you'd call "positive outcomes." Overstocks increase costs. Incorrect shipments hurt customer satisfaction. Poorly aligned inventory and sales data leads to hours of work to fix something.
Now, try to make sense of the differences between items BR01122201, BR02112201, BR02122101, BR02122301, BR02122201. Try to connect this information across multiple locations with multiple individuals adding or modifying information. The risk for error skyrockets.
Modernizing Warehouse Operations: How Can Connected ERP Deliver?
If you're stuck with manual and error-prone data entry, you might be losing ground. Connected, modern solutions have become more cost effective and valuable in the last decade. An easier backend has made these products more configurable, and it's likely that your competitors have made the move to embrace these new solutions.
Warehouse management systems, when built into ERP, can do a lot for your distribution firm. Rather than investing in a costly product with limited scope, you get a truly connected solution and a 360-degree view of your business. Finance and warehouse staff align. Sales and operations don't need to get buried in email chains. Products flow like they once did—and you can see the whole picture from purchasing to sales.
Six Features to Look for in a Distribution and Warehouse Solution
There are many ways to get what you want, but if you're in the market for this product, there are certain things distributors find valuable. Here are just six feature categories that should be on your warehouse and business modernization checklist.
1) A Strong Technological Backbone
Creating a modern warehouse relies on modern technologies. This makes the underlying technology a critical consideration. Does it use a modern development platform with programming languages people still use? Does it cater to your workflows or require you to make significant and soon to be balked at changes? Does it have a network of developers who know how to innovate and a network of partners who can get you there?
All of this goes into ensuring that you can get the product you need—because without this, no features are possible. See why connected warehouse management is critical and how APIs deliver for today's distributor.
2) Robust and Intelligent Inventory Management
Modern warehouse management depends on robust inventory management. Systems should support flexible warehouse configurations including locations, bins, containers, and slotting requirements.
Simple, yet sophisticated inventory cycle counting is a must-have to ensure inventory accuracy. Systems with ABC rank codes, movement classes, and calendar-dependent cycle counting help determine warehouse layouts for high-volume and low-volume inventory.
With 2020 a year that put a lot of strain on vendor relationships, it pays to take steps to revitalize your processes. Learn what else you should expect from an item and inventory management solution that connects your warehouse operations.
3) Accurate and Real-Time Order Management
Some WMS systems provide order management while others integrate with the sales order module in your ERP application. Either way, sales order management is a major factor in every warehouse modernization project. Systems should support back orders, item substitutions, inventory allocation to orders, and dropshipments from vendors to customers. Product pricing, promotions, and discounting must be flexible to support your needs.
4) Transaction Management and Warehouse Operations
Transactions are the heartbeat of every warehouse. Inventory receipts should support directed put-away to the preferred item stocking location. One-step, two-step, or even three-step transfers should be supported and you should be able to connect people and products with ease.
Look for systems that support flexible packing options including various packaging definitions and carton management. The shipping process should be completely integrated with sales order and inventory management. Consider systems that natively support small parcel, less than truckload (LTL), or truckload (TL) carriers. You may also require route and delivery management if you own your own fleet and manage direct shipments to customers.
Get to know more about the importance of connecting inventory optimization with transaction management here.
5) Automated Processes and Workflows
Modern warehouses automate processes. Systems should support automated inventory movement using bar code scanners and RFID. Other automation technologies may include labeling, pallet or container license plating, automated replenishment, carousel and robotics integration, EDI, and scale integration.
6) Compliance and Accurate Reporting
Do not neglect compliance and reporting. Look carefully at industry and customer labeling requirements, quality assurance, lot and serial tracking, inventory valuation, financial reporting, and government or industry compliance regulations. See the importance of visibility and the key to reporting here.
The Right Product from the Right Partner
These feature sets are crucial to every warehouse modernization project. They provide distributors with the tools they need to eliminate manual data entry, streamline business processes, and improve visibility into all warehouse and inventory transactions.
But not every company has the skills to get you from knowing what need to reaping the rewards of a new system. At Cloud 9 ERP Solutions, a Gold Certified Acumatica Partner, we have worked with companies like yours to configure and deliver Acumatica Cloud ERP, a product ready and able to handle your challenges.
Get to know more about how we work, who we've helped, and why we've been a leader in the business for nearly three decades by contacting us for a free consultation or watch our Acumatica Distribution demo.