In distribution, the product is a key part of your business. Though many distributors in recent years have looked toward partnership and value-added services as they look to fight off low-cost entrants, your business still relies on the same "product in, product out" model that it always has.
Distributors Provide Value—But Pressures Mount
Your buyers rely on wholesale distributors for the ability to hold and consolidate, delivering products when needed. Your ability to build massive warehouses in convenient yet affordable locations ensure that customers can get products when needed at a price they're willing to pay.
Your value to customers and suppliers is immense—rarely does it make economic sense for either to hold the sheer amount of inventory you can.
But understandably, the market is changing. Companies like Amazon have stepped into the distribution space, customers have increased expectations, and some manufacturers are making attempts to cut you out of the picture altogether. In turn, the pressures mounting from each side mean that you're not only fighting to keep your margins stable, but to keep business altogether.
From Purchase Order to Sales Order: Why It Pays to Take Control of Warehouse Management
At Cloud 9 ERP Solutions, we have worked with distributors for over 30 years and have found that, "product in, product out" needs to be efficient, affordable, and accurate. First, there's the purchasing, ordering, and paying for part of the equation. Paired with demand forecasting and the steps you take to ensure strong vendor relationships, this ensures you have the right amount of product when it's needed. Then there's the process of taking orders, shipping, and collecting money.
But between these two steps is the main reason you exist. It's the area you hire most of your people to handle. It's also the area in which you have a lot of room to improve. Running your warehouses.
This is where you add value—and it's the area that is most in need of improvement. It's also the area that top five B2B distributor Amazon Business is able to do incredibly well. Have products, find them, and ship them.
A flawlessly run warehouse is going to improve margins, reduce the amount of time your customers have to wait for a product, and ensure that orders are filled accurately. Unfortunately, few warehouses are run flawlessly. Spreadsheets, manual processes, and paper-based processes stand between you and your goals—and between your warehouse employees and the products.
How a Warehouse Management System Fits the Needs of the Modern Distributor
A truly integrated and connected Warehouse Management System, configured by a partner like Cloud 9 ERP Solutions that understands the nuances that affect your industry, is built to reduce errors, automate processes, and save you money. Items are captured when they enter your facility and routed to the right location. Pick lists and packing slips are generated to tell employees exactly where to find the items, the system tells employees the exact package size needed to ensure safe transport, and the shipping process connects with necessary shippers.
Products flow seamlessly into and out of your facility; people move through it. If staff can fill orders faster, labor costs drop. If you can increase accuracy, customer satisfaction increases—fewer over-shipments, under-shipments, and incorrect orders mean fewer returns. In turn margins increase.
Added to this, WMS gives you a clearer picture of workflows and paths through your facilities, providing you the opportunity to better design your warehouse for efficiency, reducing labor costs and increasing margins further.
Connecting and Improving Your Business With Cloud 9 ERP Solutions
In today's world of two-day—or same day—shipping, customer expectations have never been higher. As Amazon continues to gain a foothold in distribution, this customer expectation is bleeding into the B2B space, and to succeed, distributors need to get the pick-pack-ship and warehouse management on point.
For distribution firms, who need complete control and visibility into their products and processes, it's often hard to find a solution that can deliver, much less a local partner to get you there. Enter Cloud 9 ERP Solutions. As a Gold Certified Acumatica Partner, we have configured and implemented Acumatica WMS for distribution firms like yours and have worked hard to understand the nuances that affect your industry. With a unique consultation process, we get to know you and your business, finding what works best for your organization, tailoring a solution based on your needs, and implementing the solution how you choose, and training users not just to survive with a new solution, but thrive. Check out what one of happy distribution customers had to say:
"....With that said, we require our ERP to be one that not only supports our everyday needs, but one that will continue to grow with us over time and will work with our newly implemented WMS. Our search for a new ERP included several solutions, one being Acumatica. Presented by their partner Cloud 9, we were educated on the platform as well as the prime food service platform. It was obvious from the first few meetings that this was the correct choice for us. Cloud 9 ERP Solutions listened to our requests and concerns and was able to address all of them. We're looking forward to a long partnership with Acumatica and Cloud 9!"
Acumatica WMS is part of Distribution Edition and integrates to help you accurately and efficiently manage your advanced warehouse needs in wholesale, manufacturing, retail and other industries. Designed to help you take control of your warehouse processes, this module automates previously-inaccurate processes for eCommerce companies and lest you do more in less time.
Get to know more about Acumatica Distribution Edition and how it helps you streamline fulfillment to reduce errors, generate more transactions, and increase productivity.. When you're ready to learn even more about how a Gold Certified Acumatica Partner can help you thrive with a well-configured distribution ERP, reach out to Cloud 9 ERP Solutions to get you there. Or watch the demo below.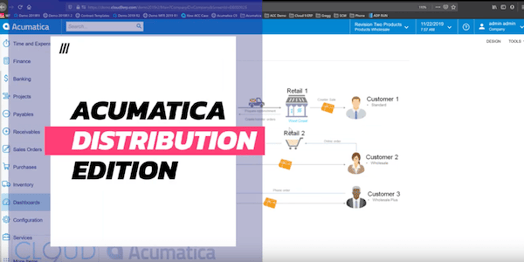 Additional Distribution Resources
How Distributors Can Rebuild and Reinvigorate Vendor Relationships
Are You Using a Modern Distribution Management Solution?
Why Visibility is Key for Wholesale and Distribution