If you're getting sick of the disruption caused by the coronavirus outbreak and subsequent lockdowns, you're not alone. After four-plus months of this, money may still be tight, but restrictions are starting to ease. As a distributor, this is great news.
Four Things to Watch When We Return to Normal
But what happens when we do return? The likely scenario? A socially distanced version of the disruption taking place in your industry prior to the pandemic.
Here are just four trends taking place in the distribution space that may have gotten put on hold, but will come back into play the minute things return to normal.
Transparency Initiatives—Now More than Ever
One of the top expectations of consumers—especially post-COVID—is going to be transparency. People want to know where their products are coming from and expect distributors to deliver this information. However, transparency has been a top priority for much longer than this, with many consumers and regulators demanding to know more about the supply chain.
From delivering information on your carbon footprint to evaluating your societal impact, it's imperative that you provide information to those who need it.
In turn, many distributors are turning to technologies to see the big picture. Blockchain technology is one way to ensure that every single touchpoint from source to end user is tracked, but one of the biggest challenges is going to be the organization that goes into processing the new deluge of data that this creates.
Robotic Automation in the Supply Chain
Money is tight, and in this, many companies are turning to automation for everything from material handling to back office processes. Driven by increasing demand in automotive, electronics, and life sciences, companies are investing heavily in robotic automation for a variety of processes.
For example, warehouses will benefit from autonomous mobile robots designed to speed up menial, labor-intensive tasks and allow humans to focus more intently on high-value activities that improve the business.
The Agility Expectation
Especially in the wake of the COVID-19 outbreak, people have turned to ecommerce now more than ever. Not only has this created new methods of getting products into the hands of consumers, it also will change the expectations of buyers. Sometimes this creates risk—the distribution space is being taken over by Amazon. But it also creates opportunity—especially for firms who can become more flexible.
According to Finances Online, this can be done through elastic logistics, which allow the supply chain to easily expand or shrink according to current market demands. Elastic logistics provides flexibility to many variables in the supply chain, including sailing schedules, carrier space, container usage, and route optimization.
The adjustability helps companies better handle potential issues such as overstocking and unoptimized space in vessels. As a result, businesses can enjoy greater stability and remain competitive despite market fluctuations.
Tighter Integration of the Supply Chain
Despite the ever-increasing complexity in the global distribution space, one of the biggest drivers of change will be a more tightly integrated supply chain. Organizations are looking to partner with third parties to deliver an improved service offering. For example, companies looking to reduce freight costs and streamline the supply chain will connect with others to offer inland services. Others will leverage 3PL firms more frequently and for more services, aiming to deliver more accuracy with less administrative work.
Staying on the Forefront of Change
For distribution businesses, it pays to be on the forefront of change. Unfortunately, if you're relying on manual processes and disparate systems, you're more likely than not playing catch up. However, with the right business management solution, you can take control over everything the product-based business needs, and with the right help, you can have a software built for the unique challenges of your industry.
At Cloud 9 ERP Solutions, we've worked with distributors to provide Acumatica Cloud ERP. As a Gold Certified Acumatica Partner, we have configured and implemented this cloud ERP solution for distribution firms like yours and have worked hard to understand the nuances that affect your industry.
With a unique consultation process, we get to know you and your business, finding what works best for your organization, tailoring a solution based on your needs, and implementing the solution how you choose, and training users not just to survive with a new solution, but thrive.
Get to know more about how we work, who we've helped, and why we've been a leader in the business for nearly three decades by contacting us for a free consultation.
Check out our Acumatica Distribution Demo to learn more.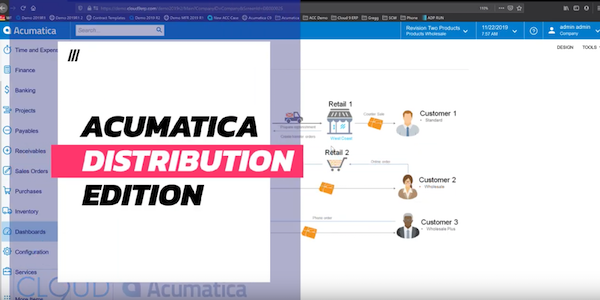 Additional Distribution Resources
Are You Using a Modern Distribution Management Solution?
Why Anytime, Anywhere Access Matters For Distribution Firms
Visibility Key For Wholesale and Distribution