The home and office supply industry has changed dramatically. It is easy for manufacturers to sell direct, and the Internet enables customers to source from low-cost, global competitors. Distribution-based businesses must be agile and built on modern technologies to effectively manage their supply chains and customer relationships.
For home and office supply companies, entry-level software systems are affordable but lack advanced features for inventory management. Smaller home and office supply companies struggle to manage complex business systems with multiple bolt-on applications for retail and online sales, order fulfillment, and shipping. Legacy ERP systems offer robust features but lack the mobility and open architecture today's home and office supply companies need to connect with customers and suppliers.
Learn how a modern, cloud ERP solution like Acumatica can help your home and office supply company boost sales, reduce costs, and exceed customer expectations.
1. Increase Sales
Business grows more competitive every day. When it comes to lead conversion, seconds count, and existing customers expect quality service for their continued loyalty.
Acumatica Distribution Edition offers embedded CRM software to provide a unified record of customer information designed to convert more leads and find new ways to generate revenue from existing customers.
Client categorization and automated marketing campaigns make it easy to get the right advertising to the right clients — anticipate the needs of existing home and office clients and upsell at just the right time.
A united Service Management system provides technicians and customer service with all of the information they need, including service history, warranties, current inventories, and equipment details — on any device they choose.
2. Optimize Inventory
Distributors need to carry the perfect amount of inventory to keep carrying costs low and adequately meet demand. Acumatica allows businesses to automate this careful balancing act with easy-to-alter minimums and maximums for individual items to automate inventory investments.
Minimize write-offs on perishables with a customizable first-in-first-out structure and real-time reports to track demand and immediately address low-stock situations.
Learn more about inventory management.
3. Streamline Operations
Barcoded transactions automatically report product movement through Acumatica's ERP software to give tighter control over product locations and amounts. You get exact sales numbers and automated tracking of exact product amounts during each transfer.
This precise information reduces buffer inventory and overstocking, which allows distributors to pass savings on to their customers.
Acumatica's barcoding works with regular mobile devices to save on equipment purchases during implementation.
4. Exceed Customer Expectations
Streamlined delivery and accurate orders help maximize customer retention, which is a leading revenue provider. Loyalty goes a long way, but customers expect high-quality deliveries as the new norm.
A single point of business management, from inventory to CRM, helps provide clients with the speed and accuracy they've come to expect from any business. Get it done right, get it done fast, get it done the first time, and leave your clients satisfied without strain on your business.
5. Improve Data Visibility
Acumatica provides out-of-the-box reporting functionality to remove costly one-time integrations, and our low-code and no-code integrations make any necessary upgrades simple.
Instead of a single cluttered dashboard for every user, real-time data updates display on a dashboard configurable to each employee's informational needs, removing distractions and streamlining the real-time decision-making process.
Powerful analytics identify profitability by item, not just over time, and make it easy to track changes in demand and customer interest trends in real-time.
6. Automate Business Processes
Acumatica stands at the cutting edge of modern technology and takes full advantage of the opportunity to automate and innovate.
Machine learning gives smaller businesses with limited accounting staff the opportunity to process vendor payments faster and easier by removing the human element entirely.
Powerful machine learning processes integrated directly into Acumatica automatically receive and convert emailed vendor invoices with little human communication, saving time and labor costs on both ends.
Extend this potent automation with Automated Bank Feeds to automate transactions and categorize expenses directly in Acumatica, making it easy to replenish in-demand home and office supply stock when client businesses run low simultaneously, reducing accountant uptime and meeting runs with expert service.
7. Reduce IT and Infrastructure Costs
Few ERP software solutions provide everything distributors need in a single package, and many require expensive third-party integrations with high training, maintenance, and support costs.
Acumatica aims to provide every necessary service natively but also provides a comprehensive suite of integrated applications with use-based licensing instead of a flat rate, avoiding payments for unused or rarely-used applications.
Minimize licensing fees and infrastructure costs by reducing third-party application count, as well as time lost to training and maintenance. Instead, empower IT to focus on more pressing tasks and make employees' lives simpler with a single program and familiar interface.
Learn more in Why Legacy ERP May Cost You More.
Get the Full eBook to Learn More: Wholesale Distribution ERP Software That Drives Growth
Customers don't care whether they're buying from you, from one of your global competitors, or directly from the manufacturer. All that matters to them is that they get excellent service at the right price. So if you are going to differentiate your home and office supply business by providing a better customer experience, you'll need technology supporting your strategy.
Acumatica delivers wholesale distribution ERP software designed to help you compete in today's digital economy. Discover what it can do for your business in our eBook: 7 Ways Distributors Grow With Acumatica.
Read this eBook to find out how modern technology can help you:
-
Generate leads
and
increase sales
.
-
Increase turns
and minimize carrying costs.
- Automate transactions to
improve data accuracy
and
reduce manual entry.
-
Boost customer satisfaction
with self-service tools.
-
Manage your entire business
from a single application, anytime, anywhere.
Transform Your Home and Office Supply Company with a Future-Proof ERP Platform
Acumatica Distribution Edition is a complete distribution ERP system with deep business and supply chain management features and unmatched product breadth. The modern, cloud-based ERP application improves data visibility, reduces IT costs, boosts distribution efficiency, and provides flexibility to enhance customer satisfaction.
At Cloud 9 ERP Solutions, we've worked with home and office supply companies to provide Acumatica Cloud ERP. As a Gold Certified Acumatica Partner, we have configured and implemented this cloud ERP solution for distribution firms like yours and have worked hard to understand the nuances that affect your industry.
With a unique consultation process, we get to know you and your business, finding what works best for your organization, tailoring a solution based on your needs, and implementing the solution how you choose, and training users not just to survive with a new solution, but thrive.
Get to know more about how we work, who we've helped, and why we've been a leader in the business for nearly three decades by contacting us for a free consultation.
Check out our Acumatica Distribution Demo to learn more.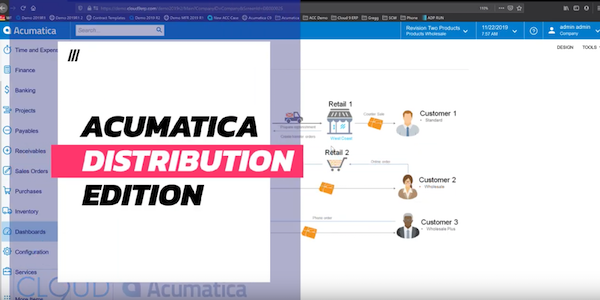 Check out these additional home and office supply resources:
How Modern ERP Benefits Home and Office Supply Companies
3 Processes That Are Critical to Success for Home and Office Supply Companies