Charting Your Course to Smarter Business Management Software (Part 2)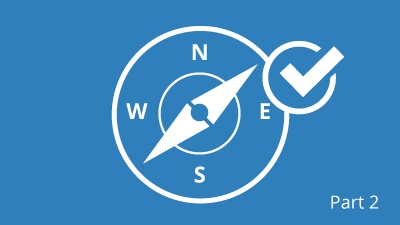 When it comes to the enterprise resource planning (ERP) implementation process, very little comes easy. While the right implementation partners can make it look easy, there are a lot of moving parts that make the process much harder than it looks. The infighting, the politicization and scrutiny over your decisions from end users and department heads, and the brushback from people clinging to the status quo make every step a challenge—and that's before you even decide on a product.
Luckily, we discussed how to tackle these issues in part one of this blog series, which discussed how a leader can lay the framework, communicate the process, and rally the troops as an organization forges toward a decision and implementation. Today, we would like to turn our attention to the biggest part of the path to a business management software upgrade—choosing a vendor and partner.
3) Making the Decision
In step 2 of the process, you took the time to gather your requirements from everyone that the software will affect, asking the questions, "what's important, what's nice to have, and what will we need in the future?" You got the go-ahead from the people signing the checks, and you began to look deeper at the potential return on investment for multiple solutions. Approaching step 3, you began to whittle down your list of potential matches from a long list of available solutions to a 'mid-sized' list. Now it's time to finalize your short list before bringing that list down to one.
Matching Needs to Products
As you've seen, there are a lot of vendors that seem to provide similar software. Naturally part of any industry that's been around for decades, every product has evolved to match the needs of the current business environment, each offering subtle differences how they handle certain processes and work for specific users. It's these differences that separate a good fit from a poor one, as a tiny detail applied thousands or millions of times over the useful life of a software adds up to create a massive challenge.
As you narrow down your list, you need to look at the functionality, the ease of use, and the support provided, as a poor or even average fit for any of these aspects mean that you're spending time and/or money to overcome it.
Functionality: Match the specific functionality that you need today (per your requirements definition) with the ability to adapt the system to change when your needs change.
Ease of use: Evaluate the design of the user interface in how familiar and intuitive it is – it must be simple to learn and easy to use.
Support: Finally, the system developer and/or implementation partner must be reliable, trustworthy, and compatible with your needs and company culture.
Finding a balance of these three qualities is critical, because they form a three-legged stool. For example, you've probably used QuickBooks at one point in your career. It's easy to use and has decent support, but the functionality isn't there.
Alternatively, a platform can meet the functional needs of your company perfectly and have great support, but if it has a steep learning curve, your end users will be spending more time in the knowledge center or on the phone than they will actually using the software. Finding a balance is critical.
Narrowing Your Options
It's likely that through this point, you've cut out certain platforms that don't align with your business goals or needs, but you're somewhere between your long list and your short list. You've seen the videos, spoken with a few vendors, and even started to test out a few hands-on demos. This is one of those make or break processes, because up until this point, you've been able to make broad cuts. Now it's time to break out the scalpel.
As mentioned above, most ERP options have been optimized to handle general business needs well. But service firms have different needs than distributors, and distributors differ from other distributors. This is where the fact-finding you did in step two becomes so important—you're working to get as many must-haves as possible. During this process, you can likely whittle down your list to 3 to 5 candidates.
The Proposal
With your short list in hand, now it's time to see what the vendors can do for you, getting proposals from vendors. Make sure that they include all implementation costs including data migration, user training, consultation help, and on-going costs so you can develop a true TOTAL cost of ownership for the time period you designated in your ROI analysis. Not just the initial costs.
Site Visits
Now that you know what the vendors will do for you, it's time to help the vendor or implementation partner to understand what they're getting into so they can finalize their quotes. This will help them understand the potential customizations and allow them to make recommendations.
Full Demonstrations
Earlier, we said that functionality and ease of use were two of the three critical parts of your software decision, but how can you expect to learn how easy to use a platform is if your end users can't try it out? This is the importance of the demonstration. When pushing towards your final decision, the demonstration will allow you to see a prototype of the software you will be using.
Before the demonstration process, discuss what you hope to see with your vendor or implementation partner and invite members from each user community to provide input on whether or not they feel a specific platform will help them do their job better. As you explore the functionality and ease of use, be sure of two things—choose functionality over frills and watch out for a vendor who disparages others.
Functionality over Frills
When a vendor or implementation has the chance to demo a software, you can be assured that they are going to show all of the bells and whistles. This could be to upsell you or it could be to distract you from something else. Stay on topic and don't let this distract you from the needed functionality.
Beware of Disparaging Vendors
Everyone thinks their platform is the best, but some might try to make themselves sound better at the expense of a competitor. A few jabs may be fine, but if their entire presentation is spent disparaging the competition instead of demonstrating the product, they're wasting your time and are probably covering something up on their own end. Furthermore, with the rapid change that occurs in the software market, many are knocking competitors on outdated information.
Ask Around
The final step before you make your official decision should be to ask for and check references from the vendors. Look for companies of similar size who made the switch, read up on sites like G2Crowd about each product, and get to know if there were any surprises that took place after the implementation.
Finalize Your Decision
Remember that a purchase decision is always a matter of price, value, and probability of success. Don't be tempted to sacrifice needed functionality or ease of use to save money. And don't skimp on implementation support and especially user training. Saving a little here will cost many multiples of the savings in lost benefits.
Finding the Right Partner to Take You There
During this process, you will be speaking with implementation partners—possibly the most important part of ensuring that you have a successful journey to smarter software. Your implementation partners specialize in the customization process and are able to tailor your software to your unique needs. These will be the people on the front lines, who ensure the data is migrated and the people trained, allowing you to maximize the value of your software over its useful life. We discussed the importance of these entities in a recent blog, and our friends at Acumatica recently released a guide that shows you how to find the right one for your needs.
Acumatica is sold only through value-added resellers like Cloud 9 ERP Solutions, and as an Acumatica Gold Certified Partner, we are among the best and the brightest when it comes to implementing, customizing, and supporting our Acumatica clients. Get to know more about our work and contact us for more details.