If 2020 has taught us anything, it's this: The best-laid plans can be derailed in an instant. Though it's unlikely we will face any kind of crisis like the COVID-19 outbreak in the foreseeable future, the last six months need to be a learning experience for all leaders. But as the economy slowly moves to reopen, it pays to not only understand what's next, but to remain focused on what got you where you are today.
Business resilience for manufacturers is built on reliability, and as you pivot back to reality, you can't lose sight of what got you where you are today.
Trends Change, Crises Happen—But Great Business Prevails
For manufacturers, trends happen. As we discussed in our 2020 Manufacturing predictions, 5G was expected to solidify the internet of things and sustainability would be the talking point of the year.
2020 turned out a bit differently—automotive companies pivoted to respirators, clothing brands make masks, and liquor companies make hand sanitizer. 2021 could mark the great reshoring movement as your customers and suppliers start thinking about how to mitigate supply chain issues that have been prevalent this year.
Put simply, trends happen. Manufacturing continues to evolve and change, but you didn't make it this far by focusing exclusively on fads—you made it to today by doing right by your customers.
A universal truth in the manufacturing world is this: to drive growth, manufacturers need to focus on what they do best: designing and manufacturing great products while providing exceptional customer service. The last thing they should ever have to worry about is their ERP software or connected business applications.
Embracing the New World of Manufacturing: 9 Ways Cloud ERP Helps You Thrive
So how can you continue to put effort in value-creating activities and reduce the time spent on tasks that don't create value? Our new guide seeks to answer that. This new guide, 9 Ways Acumatica Helps Manufacturers Thrive in the New Digital Economy, explores how manufacturers can become more resilient against any challenge by continuing to focus on designing, making, and delivering products to customers.
Here are just some of the topics this guide will explore:
How to drive growth through manufacturing efficiency.
What it takes to generate more leads and close more business.
Which technologies help you optimize inventory for maximum profits.
The best ways to tackle compliance and risk challenges.
Practical tips for reducing your technology costs.
Download the entire guide here.
Cloud 9 ERP Solutions: Your Partner for Smarter Cloud ERP
We work with manufacturers every day, helping them identify how ERP modules align with their operations and business strategies. Whether you're outgrowing your current software, finding that your legacy systems aren't ready to handle your needs, or you're looking for something more suited to your processes and needs, the right advice, assistance, and support can make or break your ERP journey. At Cloud 9 ERP Solutions, we understand the challenges that manufacturers face in selecting ERP software, and have supported companies just like yours throughout their journey.
Interested in learning more? Watch our Acumatica Manufacturing demo.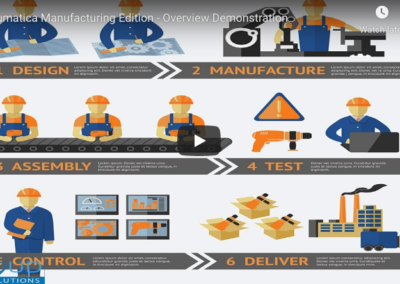 Additional Manufacturing Resources
Should You Consider an eCommerce Initiative as a Manufacturer?
The Power of Connections in Manufacturing: Job Costing Requires True Project Control
Top 9 Manufacturing ERP Software Modules