The Power of Connections in Manufacturing: Job Costing Requires True Project Control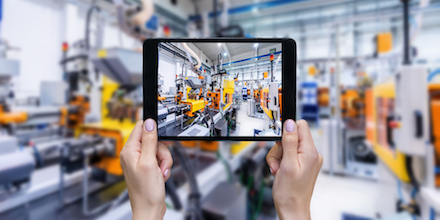 Running a business is simple, right? You just have to make more money than you spend. How hard is that? If you're a manufacturing business, you already know that in reality, there's no "easy button" that gets you from 'existing' to 'profit'.
Manufacturing Job Costing: Getting from Estimating to Profit
While each business has their own unique challenges, manufacturers seem to be the most heavily affected by everything from competition to logistics to internal control challenges. With many external pressures uncontrollable, success often relies on your ability to control your internal processes as much as possible.
For many, the process relies first on accurate estimation and second on maintaining these costs through the production process. Unfortunately, disconnected business processes often stand in the way of success, leaving many overpromising, inaccurately charging, or eating the unexpected costs.
From project start up to project completion, your business needs to connect systems and processes, giving you the power to define, collect, and manage your data and allowing you the freedom to create a repeatable and accurate process that generates profit.
Infographic: Manufacturing Job Costing with Acumatica Project Accounting
A recent infographic from Acumatica Cloud ERP discussed how connected systems and processes can give you control over project management throughout the manufacturing process. (click to view full infographic)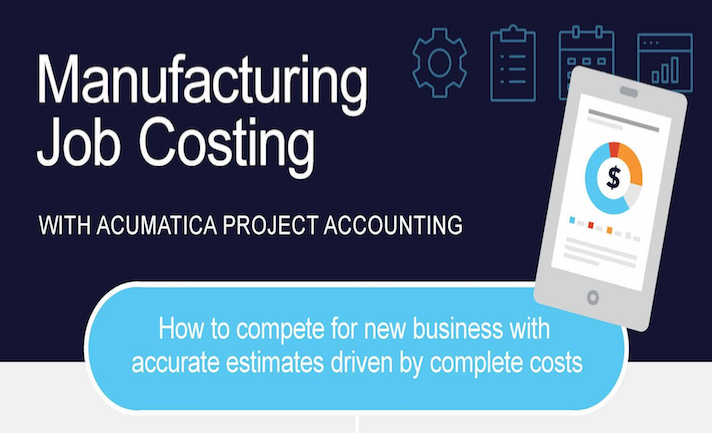 Five Ways Project Management and Manufacturing Management Fit Together
Controlling costs is impossible if you can't see your costs. Overhead pervades everything from the cost of acquisition to accounting for overhead costs, and that's not to mention the direct costs including labor, machine, materials, and set up that are considered part of the project.
However, by connecting your entire business, you can improve accuracy, handle change easily, and increase satisfaction. Here are five areas that a connected manufacturing business delivers.
Project Start Up Costs
Though control throughout the process is imperative, communicating accurate estimates to your customers/clients is the first step to make this happen. This pre-production step should be quick, accurate, and flexible, allowing your sales staff to generate and prepare estimates for customers without relying on a string of emails to get the necessary information.
With the right estimating solution, the process should be simple: Once you confirm an estimate, you can easily convert it to a bill of material or sales order. Your team can calculate costs and prices for new or existing parts using data such as material costs, work center rates, and overheads.
Project Planning
Whether you're setting out for a single-run project or setting up a long-term project, moving from estimate to official quote should be reasonably seamless and stress-free—with no surprises.
The connected business can easily pass a project from sales to project management, who can coordinate labor, machines, and inventory, and optimize them for your company's processes, updating the total costs and understanding what it will cost you.
The Project Manufacturing Process
Now, you're almost ready to go. Just need to book the machine time and you're good to go. Ideally, you'd already know just how much capacity you have before you hit this process—and with the right Manufacturing and Project Management solution, you can.
Acumatica Manufacturing Edition's Advanced Planning and Scheduling allows manufacturers to consistently and cost-effectively meet customer demands by setting accurate and reliable delivery dates based on the actual availability of resources. Paired with easy and accurate materials purchasing, this should deliver the same accuracy you've expected and delivered to this point.
Handling Changes
Changes happen. Whether they're expected, if something doesn't end up meeting the tolerances, or something needs substituted in the eleventh hour, you already know that this is just a part of life in project-based manufacturing. However, how well you handle the change is another story.
When a change order comes in, your flexibility and ability to minimize costs relies on the speed you can get from order to approval to operational changes. For project-centric manufacturers, project accounting integration creates production orders from project tasks, updates projects with manufacturing information, and aggregates cost tracking over multiple production runs so businesses can determine profitability for large jobs and contracts.
Completion, Tracking, and Billing
With everything complete—items are made, service time is tracked, and products are ready to ship—now it's time to send the bill and account for the project. Not only do you need to make your own money, you need to pay your suppliers, handle taxes, and allocate overheads to projects accurately.
A surprise in billing at this point could damage your customer relationship, hurt your profits, or result in a customer rejecting a product altogether. Ultimately, this should be the culmination of your efforts, and with proper connection, there should be no surprises for you, your suppliers, or your customers.
Putting It All Together: Acumatica ERP Delivers Project Perfection for Manufacturers
From project start up to project completion, Acumatica Project Management ERP and Acumatica Manufacturing Edition helps you define, collect, and manage your data, supplying you with the Business Intelligence and Reporting and Dashboarding capabilities you require.
For today's product-based business, few solutions are as flexible, user-friendly, or functional as Acumatica Cloud ERP and its Manufacturing Edition. However, flexibility means nothing if you can't find a partner who can configure it to your workflows and workloads.
At Cloud 9 ERP Solutions, we specialize in Acumatica for the product-based business, working with manufacturers firms who need this powerful solution tailored to them. Get to know more about our work.
Ready to learn more? Watch our on-demand webinar. How to Modernize Manufacturing Operations features Melody Moccia, Director of Administration at Emery Winslow Scale Co., who will discuss her company's journey to the cloud, exploring how the move to Acumatica helped Emery Winslow overcome the challenges of outdated ERP. Watch now.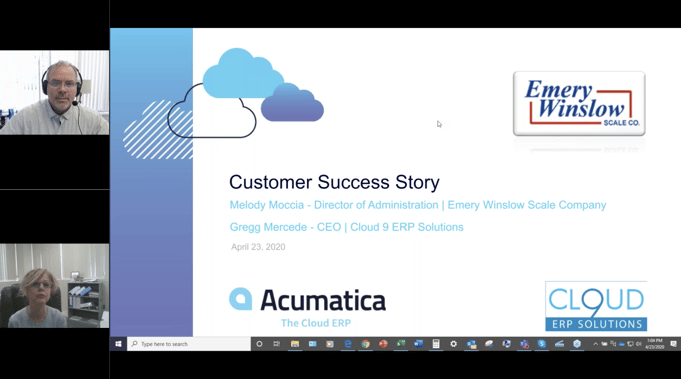 Additional Manufacturing Resources