Leo Tolstoy, the great Russian author, wrote "Every unhappy family is unhappy in its own way." He could have been describing the management of a manufacturing business. It's true that all manufacturers share a number of common characteristics. They all take in components and raw materials and turn them into manufactured goods. They have inventories of parts and materials, work-in-progress and finished goods. They deal with logistics and shipping.
Beyond these commonalities, however, each manufacturer is different—unhappy in its own way, so to speak. Each has its own unique production process, supply chain and operational cycles. Inventory practices vary widely. For some manufacturers, it's common to get a shipment of raw materials once a month. Other manufacturers might require deliveries several times a day. Manufacturers vary from job shops to build-to-inventory to custom-made-to-order. Some deal in items that cost pennies apiece. Others have single products that run into millions of dollars.
For these reasons, dedicated manufacturing Enterprise Resource Planning (ERP) software is essential for success. All but the simplest manufacturing operations need purpose-built software to run right. And, increasingly, that software has to enable automation of processes in order to be effective.
ERP software for manufacturing
ERP software for manufacturing contains functional modules that no other kind of business needs. These include Bill of Materials (BOM) and order routing, production management, Order Management, Materials Requirement Planning (MRP) and planning and scheduling. Custom-manufacturers do well with a Product Configurator. Others still might want to take advantage of a Warehouse Management System (WMS).
The ERP solution itself is then usually customized for the individual manufacturer. With the software, the manufacturer can attain complete visibility and control over the organization and its processes. Manufacturing ERP helps accurately track production costs and reduce IT and inventory costs. It can balance supply and demand, keeping production going while avoiding overstocking on expensive inventory.
Why automation is essential for ERP in manufacturing
Manufacturing operations move at high speed. Things happen. Things change. Customers expect orders to be completed on time. The people involved in overseeing all the various business processes have to keep up. The software helps, but it's best if as many processes are automated as possible. That way, the people can get the work done without getting bogged down in manual tasks.
For example, when an invoice comes in from a vendor, that will initiate a process of checking to see if it matches an approved Purchase Order (PO), if the goods being billed for were actually received, if there are any problems (e.g. defective materials returned for a refund, etc.). Once all of these factors have been checked, the invoice goes for approval. Upon approval, a check is written, and so forth.
Each of these process steps can be done manually, with a worker interacting with the ERP software all along the way. This is inefficient and error-prone. Instead, it is possible to automate and orchestrate many aspects of these processes to save employee time and make things move along faster. In this example, an automated workflow could instantly match invoices with open POs and requests for credits based on defective materials.
This is just one of many examples of the power of automation in manufacturing ERP. Modern ERP solutions like Acumatica enable hundreds of processes to be automated.
Cloud 9 ERP Solutions has helped many manufacturers automate their business processes and manufacturing management workflows. If you are interested in learning how automation in manufacturing ERP can help your business run better and more profitably, we should talk. Contact us today to learn more.
Here's what one of our latest manufacturing clients had to say:
"We just kicked-off our ERP implementation project and couldn't be happier about the stellar support that Cloud 9 ERP Solutions is providing. We selected Cloud 9 ERP Solutions as our partner because our evaluation process revealed that they would provide the expert guidance and collaborative consulting that we needed. They are certainly delivering as expected, but in addition, we've seen a level of energy and passion from their project managers that is reinforcing our confidence in our choice..." - Melody Moccia, Director of Administration at Emery Winslow Scale Company
Acumatica Cloud ERP Manufacturing Demo
Acumatica ERP software for the manufacturing industry integrates with our financial and CRM modules to effectively support all major business areas. Use flexible business processes to plan and control your manufacturing operations. View our Acumatica Manufacturing Demo.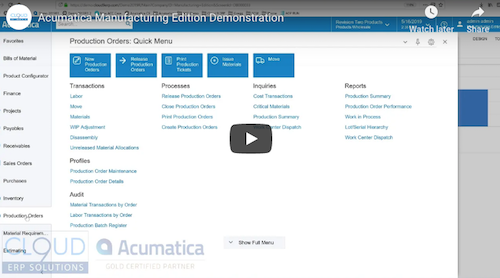 Additional Manufacturing ERP Resources
Top 9 Manufacturing ERP Software Modules
Benefits of True Cloud ERP for Discrete and Batch Manufacturing
Why Manufacturing Companies Need an Industry-Specific ERP Solution