How Field Service Businesses Use ERP to Optimize Dispatching and Route Management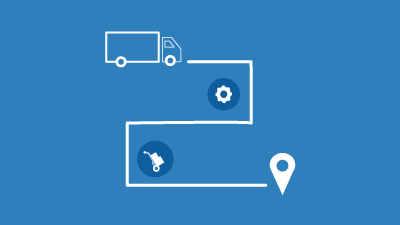 The service technician will be there between two and four. Uh huh… We've all been there. Sometimes, the tech arrives at 4:30, or the next day. It seems unavoidable, but it isn't. Plus, it's one thing to wait for your fridge to get fixed. It's another when a multi-million-dollar piece of equipment is down. You want to know when that tech is coming. In fact, you may even have a contract that specifies how quickly he or she is going to arrive with the repair kit.
These issues relate to Field Service Management (FSM). Once the province of clipboards, pay phones and message pads, FSM is now part of the Enterprise Resource Management (ERP) software portfolio. With the help of Cloud 9 ERP Solutions and Acumatica, users can now take advantage of powerful FSM capabilities. Using FSM solutions, managers responsible for field service can make their departments more responsive, optimizing routes in the process.
Dispatching and Scheduling in Field Service Management
Getting the service tech on-site within the promised time period—or inside the legally-binding Service Level Agreement (SLA)—requires balancing a variety of subjective factors. Geographically, you have to make sure you're not running your service techs all over town. It's not optimal to send a person 15 miles in one direction for the first call of the day, and then back another 20 in the opposite direction for the next call. This chews up service time, keeps customers waiting and wears people out.
Service scheduling requires flexibility, too. Emergency calls come in. Things take longer than expected, pushing later appointments back unless another tech is available. You also need the right people for each job. One tech may be great at a certain kind of service, but not another.
Acumatica Field Service Management helps with dispatching and scheduling by organizing field service appointments by optimal drive times. It embeds Google Maps for this purpose. Dispatchers can see distances and make decisions based on estimated arrival times. The software's visual dispatch board also enables the dispatch team to visualize how emergency calls and traffic will affect service delivery. The application also maps to spare parts inventory data in order to avoid situations where service techs lack the parts they need to get a job done.
How can this benefit your business? At Cloud 9 ERP Solutions, we helped M3 Technology Group gain a more efficient field service team with Acumatica:
As the field service offering grew, M3 Technology Group added more employees and began offering preventative maintenance plans. M3 acquired another small business in 2017, adding 20 new users to Acumatica, while avoiding the costly per-user licensing fees that Acumatica's competitors charge. The Field Services division now contributes about a fourth of the company's revenues.
"Now we have 25 Field Services Reps, five operating as full-time on-site support technicians at universities and corporate campuses," Burns says. "In 2017 we logged nearly 1,300 service tickets, 2018 was double that at least. We use Acumatica's case system and Field Services to track tickets."
With the help of Cloud 9 ERP solutions, M3 has successfully streamlined dispatching, reduced response times, and minimized costs. It isn't a bolt-on application but rather works directly with the other ERP modules including sales, inventory, purchasing, accounting, and financial reporting.
You can read the our full M3 Technology Group case study here.
Mobile Technology in Field Service Management
At Cloud 9 ERP Solutions, we understand the importance of enabling your mobile workforce. Acumatica equips your service techs with mobile technology. This reduces or eliminates physical paperwork and puts field service data right into the system. (No more rekeying of data.) The mobile app also provides information about the customer's issue, their equipment and past service history. Once the work has been finished, the tech can instantly upload the service report into the customer's record for billing and follow-up.
As an example, Cloud 9 ERP Solutions enabled the mobile workers at M3 Technology Group to connect to Acumatica via an app to enter data such as expenses, directly, saving time. Rather than spending half an hour fighting with freezing applications, the mobile sales team now creates quotes in minutes without any downtime or the latency issues experienced prior to Acumatica.
The Use of Data in Field Service Management
Data visualization and reporting help you build an effective and competitive field service organization. Acumatica lets you visualize your field service operations. This approach allows for easy identification of problematic or potentially problematic situations. For example, dashboard widgets can highlight Key Performance Indicators (KPIs) like on-time service records. Reporting could show which service contracts are close to expiration and so forth.
Field Service Management From Cloud 9 ERP Solutions
At Cloud 9 ERP Solutions, we have the experience in delivering fully integrated business management software to field service firms like yours. We know that business management software affects nearly every facet of your operations and therefore has many different moving parts—all of which need to be tailored to your needs and tested to ensure they will make your business better. To learn more, watch our field service software demo today!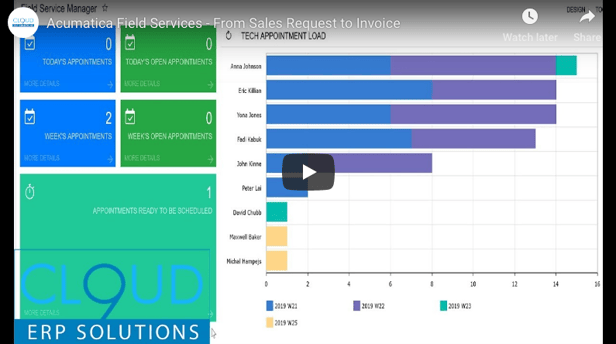 Additional Field Service Resources
Acumatica: Advantages in Field Service Delivery
Utilizing Cloud ERP in Field Service Management
Choosing a Field Service Management Software: Features to Look For