Field Service: The Importance of Field Service in Today's Business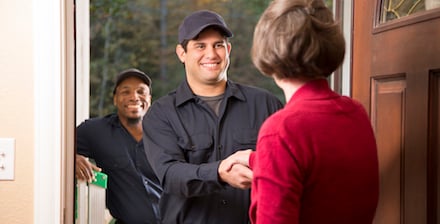 It's well known that it costs more to keep a customer than it costs to find a new one. But what if part—or most—of your revenue comes from ongoing service of machinery, systems, or products? From the local garage door installer or computer shop to the multinational AV firm or industrial equipment provider, your revenue usually relies not just on the initial sale, but the fast, high-quality service that follows.
Making Your Firm Irreplaceable: Why Field Service Matters
Often, the equipment you install might be hard to replace. But you might be—and just because you designed, built, manufactured, and/or installed something doesn't mean you're the only one who can work on it. For a purchasing department, you're no different than a mechanic chain is to the average driver.
But there is a way to keep the relationship stable, to keep your service contract revenue coming in, and to remain at the top of your customer's mind when it comes time to update or upgrade equipment. Continue to deliver reliable, timely, and high-quality service.
In this, it pays to understand just how important a field service management platform is to the long-term success of your business, helping you to get from customer call to dispatched tech to completed service.
Why More Companies Are Connecting Field Service, CRM, and ERP in the Cloud
Though you do have many options, many companies have opted to integrate their field service with ERP and CRM in the cloud—with good reason. By connecting everything, a company can connect information about the customer to information about the product, equipment, tools, and qualified techs to information about billing.
This can streamline the path to service by hours or days, improve the quality and timeliness of service, and put the right people with the right tools on the job. With a 360-degree view of customer activities, improve the overall customer experience and elevate customer satisfaction to earn higher recurring revenues and gain a competitive advantage.
Unlike bolted-on field service functionality, a field service management connected with the rest of your business leaves you no blind spots. Whether that's inventory use, scheduling, dispatch, and service management, equipment tracking and maintenance, or one of the many other necessary features of a field service management platform, the data can't exist in a silo.
In the coming months, we're going to continue exploring the necessary components of a field service management product in greater detail, discussing the core functionality and why it matters.
Stay tuned for our functionality deep dives on Service Management, Equipment Management, and the benefits of integration in March and April.
Turning Field Service from Necessary Service to Profit Center
An especially important guide for companies who still consider field service as strictly a customer service activity and less as a profit center, Acumatica's whitepaper explores why its so important to make the switch. Service revenue has immense profit potential—not just in recurring revenue, but as a 'tryout' for something bigger.
Remember, just your competition can replace you and use this to secure a purchase order for big ticket products and services, you can do the same. We invite you to download "Field Service Management: Strategies to Improve Profit and Customer Loyalty" to learn more.
Never Lose Site of Your Field Service Business With Cloud 9 ERP Solutions
If you want to get ahead in today's highly competitive field service market, you need to deliver exactly what you promised to your customer and more. Get a complete view of your customer, technician, and business with Acumatica Cloud ERP.
At Cloud 9 ERP Solutions, an Acumatica Gold Certified Partner, we have the experience in delivering fully integrated business management software to firms like yours. We know that business management software affects nearly every facet of your operations and therefore has many different moving parts—all of which need to be tailored to your needs and tested to ensure they will make your business better.
Interested in learning more? First, take a quick tour through Acumatica's Field Services Edition. Click here to watch the field service demo.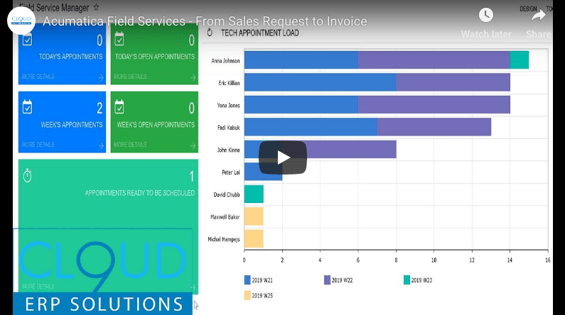 Additional Field Service Resources
How Field Service Businesses Use ERP to Optimize Dispatching and Route Management
Inventory Management in Field Service: A Unique Challenge