Meeting the Demands of the FSMA With ERP Software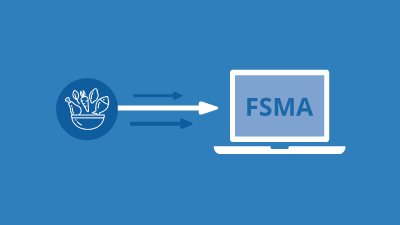 Sanitation practices, documentation of food safety plans, and the traceability of materials and ingredients used to make food products are areas companies are looking more closely at due to the Food Safety Modernization Act (FSMA) implementation.
Simultaneously, technology is making an impact in the industry with cloud migration and the importance of big data and analytics — all of which are presenting opportunities and challenges within the food manufacturing industry.
Digital transformation is at the heart of the roadmaps that food company software vendors are setting forth, including the adoption of a multi-cloud strategy. ERP systems are now dictating how food companies should utilize applications, data, and software.
Business leaders realize they need assistance and that digital transformation is the answer; it can help to understand what changes are needed to meet the demands of the evolving environment in which they work. While some companies are satisfied following the strategic direction of software vendors, others are seeking out opportunities to leverage data to make more insightful decisions, particularly when it comes to FSMA compliance.
The first step forward to this end goal is defining a strategy for gathering, storing, connecting, and presenting different types of data across the entity, as well as to customers and business partners.
Data-Driven Compliance
To meet FSMA compliance, organizations must first have detailed documentation of a food safety plan and then be able to produce data that proves adherence to the plan that can be shared with the U.S. Food and Drug Administration (FDA) during plant inspection.
It's essential that businesses are able to detail adherence to best practices, and when necessary show that corrections are in place to mitigate concern and risk. Companies can face fines and/or temporary shutdowns if they do not meet expectations.
The rule on Sanitary Transportation of Human and Animal Food requires that the safety plan be communicated to key participants throughout the supply chain, as the manufacturer is often found to be responsible for food safety problems. Tracking should span the process from the farm field to market shelves or any final customer.
Modern ERP systems eliminate the outdated spreadsheet and other manual accounting functions, saving time for workers to focus on tasks that help the company grow the bottom line. It can also help to refine processes that weigh down food manufacturers, such as specifying food safety tests, collecting and archiving results, and validating sanitation procedures.
Through dashboards, the C-Suite, as well as various departments within the organization, can quickly access real-time information in easily digestible charts and graphs at the touch of a button. Cloud-based solutions are accessible through any browser or smart device with Internet access, giving the workforce 24/7 access to data and information from wherever they are located.
Business leaders in the food safety/sanitation field should find ERP solutions partners can address the following questions:
Location of data:

Does the company know where data lives, how it can be accessed and by what users, and also how secure it is?

Integration:

Will the solution integrate with other systems utilized across the organization, as well as those that are industry specific?

Data Visibility:

Can data be put into a framework that allows it to be extracted, visualized, and leveraged?
The Digital Advantage
When an organization implements the right solution and partners, it can eliminate the guesswork and leverage data. FSMA compliance is critical and digital transformation can help ease the complexity by providing food manufacturers with transparency and responsibility essential to food safety.
Change is never easy for a business, but moving to a modern ERP system is well worth the effort. The first step forward is to evaluate the organization's technology needs, while also ensuring FSMA compliance and business objectives are met. Once these areas are identified, it's best to weigh both the company's strengths and areas that are in need of attention.
A cloud migration plan can be achieved by working with a proven ERP vendor that has experience in the field of food manufacturing and safety. Business leaders should narrow finalists to a top handful and be sure to check references — IT or project leads should reach out to those businesses directly to hear how the experience went and if satisfaction was met. Visiting the business and actually viewing the system in action is ideal, if possible.
The evolution to state-of-the-art technology within a business is not an instant one, but instead a journey that takes place over time. With the right partner, food manufacturers can set up processes that better assure regulatory compliance, as well as growth for the organization into the coming decade and beyond.
Getting Started
As a Food Service business today, there are many unique challenges and requirements your industry faces. And finding the right ERP solution to manage your business can be daunting. Cloud 9 ERP Solutions and Acumatica recognizes these concerns and has developed a comprehensive set of products specifically for Food Service. Learn more in our article: Unique Challenges for Food and Beverage Distributors.
Many organizations in this industry still rely on disparate, siloed legacy applications. With Acumatica, you get a complete solution ready to deliver for your food service business. We offer a solution that incorporates key requirements in the food industry that quite frankly our competitors are missing.
As food service remains competitive with razor thin margins, you can expect Acumatica to meet those demands of Food Service companies:
Rapid inventory turns
Full web-based cloud functionality
Customizable Executive Dashboards
On site order entry
Quick turnaround time from order-to-cash in hours instead of days.
Daily or weekly price fluctuations
Catch weight & Lot traceability
Same and next day deliveries
Daily planning needs for purchasing
Delivery Management/Route optimization
Full set of financials, reporting, P&L
As an Acumatica Gold Certified Partner, Cloud 9 ERP Solutions is a proven leader of business expertise to its customers. Learn more by reading our case studies and testimonials, and contact us today for a free consultation or to request a demo!