Two Major Reasons You Need to Rethink Your Ecommerce in 2018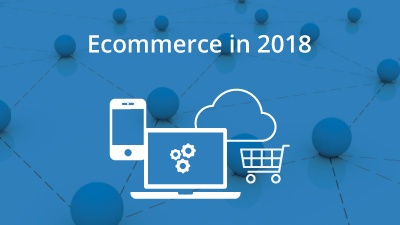 Ecommerce continues to evolve, and businesses need to keep up with the changes if they hope to succeed. Customers have higher expectations than ever, the path to purchase has shifted to an omnichannel experience, and there's always the present danger that is Amazon. Here are two of the top reasons you need to evolve your Ecommerce strategy in 2018.
Satisfying Customers—Whenever and Wherever Possible
According to Google, "About 85% of online shoppers start a purchase on one device and finish on another." Customers are no longer tied to their computers. In 2018, customers have moved beyond single channel purchases or even multichannel ones—they expect retailers to provide a true omnichannel experience.
There is immense value in the omnichannel customer. A Harvard University research team conducted an in-depth study of 46,000 customers of a major retailer and found that omnichannel customers are more valuable, engaged, and loyal, spending on average 4% more on every in-store shopping occasion and 10% more online than single channel ones.
This presents an opportunity and a challenge for retailers, who will need to paint a complete picture of their customers from interest, to decision, to action.
The Continued Threat That Is Amazon
When you run a retail or ecommerce business, you're not only competing with similarly sized organizations, you need to always be on the lookout for the elephant in the room—Amazon. Amazon has spent the better part of three decades changing the way that people shop and has continued to innovate. B2B? Amazon does it. Brick-and-mortar? Amazon is there.
Competing with Amazon is no small challenge—the company is at the top of mind and is often the first place shoppers go. To overcome this, retailers need to keep the customer satisfied by providing a unique, memorable, and consistent shopping experience.
As retailers fight to find new customers and satisfy existing ones, they need complete visibility into their processes and inventory. How can they make this happen? Integration.
For ecommerce businesses, integration is the first step in providing excellent customer service. Your eCommerce platform (website and shopping cart functionality) should be integrated with your ERP and internal functions as much as possible, minimizing duplication and enhancing visibility throughout the value chain.
How One Ecommerce Leader Brought its Business into the Future and into the Cloud
Acumatica customer Caswell, Inc. (which includes Caswell, British Tools & Fasteners and Mud-Skipper Long Tail Mud Motors) is a family-run operation. It started with President Lance Caswell's father recognizing that car and bike enthusiasts would restore their old cars and bikes themselves rather than hiring others to restore nickel, brass and other metal plating. From their living room to a manufacturing plant, the company grew in both size and scope, adding two other related companies to the mix. After 13 years of relying on a software package that caused problems during every upgrade and wouldn't support their add-on company product, Caswell needed a new system.
They chose Acumatica as their integrated ecommerce ERP, implementing our Financial Management and Distribution Management suites. Caswell says, ""Acumatica is incredibly simple to use. Acumatica is reliable, and there's no IT overhead."
Through the hard work and diligence of Caswell, along with that of Gregg Mercede from Cloud 9 ERP Solutions – an Acumatica Gold Certified Partner – they were up and running in just ten days. And the benefits were immediate. Learn more about Caswell's journey to the cloud with Acumatica and Cloud 9 ERP solutions here.
The Right ERP Can Fuel Your Ecommerce Business
Even though eCommerce is no longer a choice for most companies, but a requirement, it is still good practice to map out a business case to drive eCommerce investment and technology decisions. As you look to grow your business, it pays to have the right plan in place and the right technology to make your job easier. As an Acumatica Gold Certified Partner, Cloud 9 ERP Solutions is a leader in helping companies enhance their ecommerce business and has worked with companies just like yours. We invite you to learn more about our ecommerce capabilities, read customer testimonials, and download the latest guide from Acumatica: The Best eCommerce Starts with Tighter Integration. Ready to learn more? Contact us today!