What Does It Mean to be an ERP Project Champion?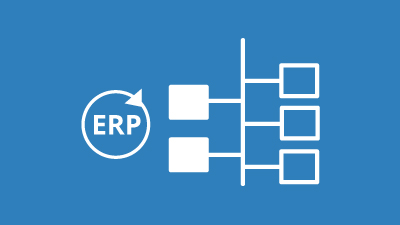 The ERP decision making process is rarely an easy one. Vendors can make wide ranging promises, different departments have different needs, pricing models can vary, and the discussions that go on in the months leading up to the final decision are tense and politicized. There are many reasons these projects only happen once every five to eight years (if successful), most notably because the path from decision to action in ERP is so strenuous on the people in the organization.
We've offered a great deal of insight into the path to purchase in our series "Charting the Course to Smarter Business Management Software—Part 1 and Part 2" and today would like to turn our attention to one of the key players throughout the process—the ERP Project Champion.
Who is the ERP Project Champion?
The ERP Project Champion is a unique individual. A realist and an optimist, a visionary and a strategist, a general and a diplomat, this person brings order to a chaotic period of company change.
The right ERP Champion facilitates discussions, keeps people on track, offer hope for a better tomorrow, and manages the inevitable conflict that will happen throughout the discussion process.
However, before we discuss the role as a whole, it's important to step back and discuss some of the feelings that may reverberate throughout your organization during this period of change.
How the ERP Project Champion Fits into the Change Management Process
ERP implementations are major organization-wide processes and are known to have a role in disruption, transformation, and cultural shifts that reshape the business. Properly completed, these projects can provide more detail into the operations, allow for smarter decision making, and provide unmatched value. Knowing this, over 70% of major technology implementations fail to return the value promised—why? In simplest terms: Mismanaged expectations.
Whether the vendor or reseller overpromises, the company fails to plan for customizations, or the project starts with no clear vision, a lack of understanding throughout the process is often the main reason a project descends into chaos.
The Stages of Change Management
In the Acumatica blog, Cloud Transformation Series: The Number One Success Factor for Moving to the Cloud, author Donna Krizik introduces readers to the change management curve from Vantive Media, which explores the emotional stages that go into the designàdevelopmentàdeploymentàoperation process.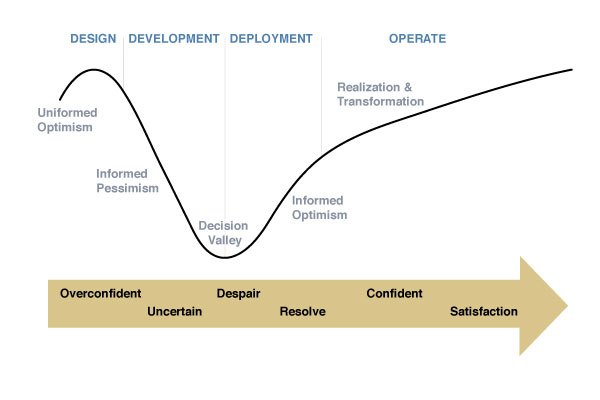 When companies go through an ERP decision, it's exciting for most people in the organization. With promises of time savings, less paperwork, and more freedom, people are undeniably and incomparably optimistic. However, when people realize how hard it will be to get from point A to point B, they quickly lose faith in the project. Morale drops and pessimism sets in. It is at this moment that your ERP champion needs to step in to reinforce optimism and move the project forward.

Everything about this role is about balance from beginning to end. Maintain morale, don't overpromise results. Listen to your team's input about needs and wants, but don't get stuck trying to satisfy everyone (see the importance of ranking features here). Push progress, don't force change.

Krizik recommends ERP Project Champions take the following five steps to set the project up for success:

1. Establish a "change management team", even if it is only one person. This person will champion the project, outlining the ups and downs, preparing all parties for them.

2. Make sure the change management team gathers feedback throughout the process and communicates those to line managers and other key stakeholders.
3. As you transition from development to deployment, reinforce the project vision. Highlight the benefits each department and person will see upon go-live. Outline the project journey so everyone knows what to expect from this point on.
4. Prepare for go-live by establishing user adoption best practices. Create a user adoption dashboard if you can. Tracking who is logging in and how they are using the new system will give you valuable insight and allow you to address stragglers before they become a problem.
5. Don't neglect the post-go-live stage of your project. This should be your continuous improvement phase. Include checkpoints at three, six and nine months to uncover any user issues, dig for refinements and identify supplemental training needs.
Leading the Charge, Promoting the Change
Every project needs a champion—do you have what it takes? Throughout the process, your job is to rally the troops, get buy-in from the right people, build a team of likeminded individuals who can help communicate, and keep the project on an upward trajectory.
Are you interested in learning what it takes to be a truly effective ERP Project Champion? We invite you to download the Acumatica guide on becoming one, featuring interviews and insights from others who have successfully managed change and set the course for success. Download "Why Every ERP Project Needs a Champion" here.
Ready to learn more? As a Gold Certified Acumatica Partner, the Cloud 9 ERP Solutions team has helped companies just like yours to select, implement, and operate ERP software. Learn more about Acumatica, and contact us for a free consultation.