Drop shipping is an important part of the supply chain process for eCommerce businesses. The retailer does not need to have a product in its inventory. Instead, they can transfer customer orders to another retailer, the manufacturer or wholesaler, which then ships the order directly to its destination.
An ERP can help with all types of sales order fulfillment. In fact, Acumatica, a cloud-based ERP for all-in-one business management, can be used to create drop ship orders.
Acumatica eCommerce software helps manage the entire sales process from a single dashboard. Sales orders can be created and turned into drop shipments if that's what it takes to satisfy the customer. Drop shipping can be preferable to backordering and delays caused by the retailer taking delivery from a manufacturer and then turning around and shipping it to the customer. When a customer orders a product that's not in a company's inventory, a sales order can be created within the distribution module. To complete this process:
Choose a customer and create a line item, product and quantity.
Mark the item for purchase order.
Select drop ship from the purchase order options.
Create a purchase order to select and process the order.
Email the purchase order to the vendor.
The email sent to the vendor can be viewed along with a copy of the purchase order. Each module of Acumatica is synced, but item quantity data in the Inventory module will not be updated when a drop ship order is completed. That's because the order will not change the quantities of stock items in your inventory, as they're ordered directly from a wholesaler or manufacturer.
Drop Ship Management from an ERP Dashboard
An Acumatica dashboard will also indicate whether a prepayment was received for a drop shipment. Notification that the order was received by the customer is provided as well. Purchase order receipts can be viewed in the Accounts Payable module. The order can also be found in the general ledger of the Journal Transactions screen, which shows when the deposit was sent to the vendor and when it was applied to the receipt. Also, the order and invoice can be processed just as easily.
Drop shipping is built directly into the eCommerce system of the Acumatica Cloud ERP. Different types of dropship orders can be processed, including goods, non-stock items, and services. Users can track freight expenses for orders as well, which are copied or added directly to purchase receipts.
Acumatica can be used to generate multiple dropship orders at once. A single purchase receipt can be created for a set of orders. Users can take advantage of the same order management features as for standard product orders, leverage dashboards for insights and analyses and use the sales tax automation add-on to automatically apply taxes from specific states and regions to online orders.
With Acumatica ERP, you can create drop-ship orders for goods that should be delivered directly to a customer location. Learn more in our demo How to Process a Drop Ship Order in Acumatica.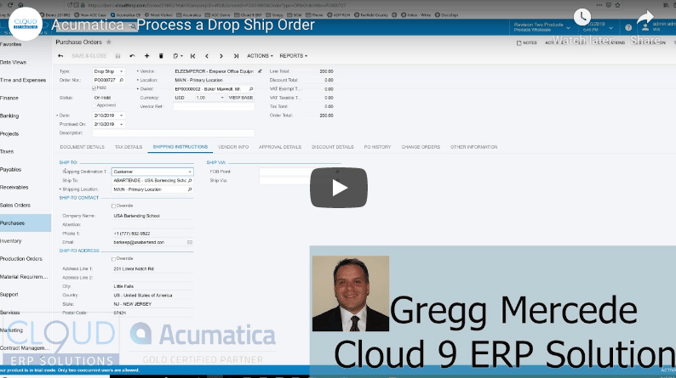 Acumatica Cloud ERP: Centralized Management of Sales Activities
All sales functions, like the rest of Acumatica's feature set, can be accessed from the home office or a mobile device. Users can fulfill sales orders, enter quotes and apply discounts as well as check available inventory and create shipments. Also, the status of drop ship orders can be checked at any time.
To learn more about Acumatica and how it can be used for drop shipping management, call us or request a demo today.
Additional eCommerce Resources
How Cloud ERP Can Benefit eCommerce
How to Connect Your eCommerce and Back Office Systems
3 Reasons It May Be Time to Break Up With Your Ecommerce ERP System