Whether you provide ongoing product support for products you built or specialize in being a field service company, when a customer calls, they need you to deliver.
As we discussed last month (view article here), companies who can focus on field service are not only fending off the competition, they are opening up a new source for profit. However, when your competition is trying to do the same thing, it's vital to deliver high-quality service for your customers while keeping an eye open for new opportunities.
In this, integration is one part—those with field service management built into an ERP solution are able to reduce blind spots and increase speed. Functionality is another.
Whether you're looking to re-tailor your business around a recurring revenue model or know what you're looking for (and just want to know the key components of service management), you're in luck.
Service Management: Putting "Service" in Field Service
Though there are a variety of components in field service management, the majority of features fall into the equipment, the service, the financials, and the agreements. However, when most people think of functionality in a field service management platform, they usually think first of the service aspect—with good reason.
Whether your services are quick, emergency jobs requiring the closest technician or complex jobs that require a certified specialist with specific tools, service management should be the first thing you think of. Paired with a well-defined equipment management platform, service management puts the right people in the right place at the right time with the right tools to do the job.
Acumatica Field Service Edition: How Service Management Helps Your Business
With Service Management, part of Acumatica Field Service Edition, you streamline processes and quickly capture service needs, shortening the time between call receipt and job assignment. By facilitating the scheduling and dispatching process, connecting your business, and giving your entire staff access in the cloud (with unlimited user pricing), your business can deliver the high-quality service your clients expect.
From reduced response time to improved tracking, you can improve revenues, drive customer satisfaction up, and gain a competitive advantage. Here's how Acumatica helps:
Give Your Call Center and Dispatchers a 360 Degree View of the Customer
When a customer or client calls you, there's a reason. But how much do you know about the customer? Who are they, what do they need, and how can you help them? Do they have a warranty? Contract? Credit line? Too often, loosely bolted on field service management leaves you bouncing from application to application to answer all the aforementioned questions.
CRM, and Field Service Management need to match up in real time to give your call centers and dispatchers immediate access to any and all customer data, empowering you to quickly capture service needs and access customer information, product history, and resources.
Shorten Time to Service with Dispatching, Route Planning, and Mobility
No one wants to drive across town during rush hour. If it's an emergency, no one wants to wait for someone to drive across town during rush hour. Route planning leverages Google Maps and field service data to optimize routes, put the right person on the job, and even find the best route.
Maybe it's not an emergency. No one wants a four hour window. With scheduling in Acumatica, you can save time by easily setting up job assignments with easy-to-use drag and drop tools.
Keep your staff members connected through any browser-enabled device or using the native mobile Android and Apple iOS (iPad) app. Offer staff access to service information and customer data from anywhere at any time. Acumatica runs on the entire spectrum of mobile devices, important for companies using laptops rather than small devices like phones. With unlimited users, you can add as many people as you need without your costs adding up alongside.
Go Further: Put the Right People with the Right Inventory on the Job
Integration with CRM is one thing—it helps you see your customer. Dispatching people quickly is great—it gets people on-site faster. But if you send the wrong person to help them or your tech shows up unprepared, you're not exactly helping. The right field service management needs to incorporate inventory tracking and skills tracking. Again, this is an area where disconnects could be dangerous.
In field services, tools and repair parts are typically spread across multiple vehicles and warehouse locations. With Acumatica, you can control and track these locations and costs. Since inventory and purchasing are integrated, replenishment orders can be sent to a specific location and, when the parts arrive, the dispatcher can schedule the service appointment for installation.
Field service should integrate to ensure you're sending the right technician for the equipment he or she is servicing, with the right gear for the job.
Get to Know Acumatica: Built for the Field Service Business
If you want to get ahead in today's highly competitive field service market, you need to deliver exactly what you promised to your customer and more. Get a complete view of your customer, technician, and business with Acumatica Cloud ERP.
At Cloud 9 ERP Solutions, an Acumatica Gold Certified Partner, we have the experience in delivering fully integrated business management software to firms like yours. We know that business management software affects nearly every facet of your operations and therefore has many different moving parts—all of which need to be tailored to your needs and tested to ensure they will make your business better.
Interested in learning more? First, take a quick tour through Acumatica's Field Services Edition. Click here to watch the demo.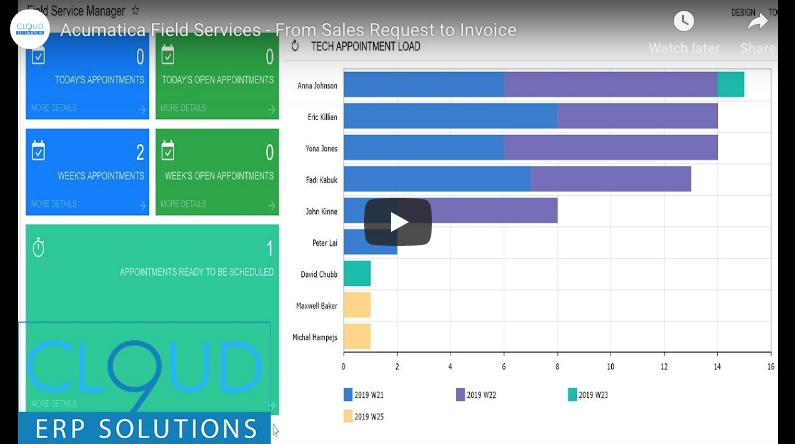 Additional Field Service Resources
How Field Service Businesses Use ERP to Optimize Dispatching and Route Management
Utilizing Cloud ERP in Field Service Management
Choosing a Field Service Management Software: What to Look For