Once upon a time, Everest was considered a strong ERP product. Granted, this was more than a decade ago and a lot has changed in the market. A lot has changed with Everest, too, though said changes weren't exactly positive. New ownership, new ownership of the purchasing company, demise of the partner program, and a shift in business model, just to name a few. Unfortunately, the thing that hasn't changed much is the software.
Still relying on outdated technology, delivering updates that are both rare and devoid of features, and providing software that can be generously described as "stable-ish," Everest is not built for the needs of today's business.
But we've discussed all of that in prior blogs including "five reasons to migrate from Everest now," "top challenges for companies using legacy ERP" and "is Everest leaving you with a mountain of extra work?"
In fact, we followed this up by discussing the steps you need to take to sell your team and your exec team on a move to new software. The journey, however, is just beginning. Regardless of how much better your business will be after you upgrade your ERP software, you still need to get from point A to point B.
Today, we'd like to discuss how you can narrow down your potential Everest ERP replacements.
Better Doesn't Mean Best
So, you've come to the realization that Everest might not be the best option for you. You've even sold your team on making the move. Now what? Well, now it's time to sit down, listen to sales pitches, compare functionality, and decide on what vendor you're going to work with.
Knowing this, if your company has been using Everest, we can assume that it's been a while since you last looked at ERP. You may start to look at solutions and see just how far the market has moved, hastily selecting a product.
"Well," you may think to yourself, "this seems like a better option. It has all the functionality we need."
You wouldn't be wrong. You also wouldn't be wrong to assume that the product is better than Everest. But better doesn't always mean best. Every hiccup that exists when using the software, every manual process needed to do some specific task, and every disconnected workflow adds up over the life of the product. In fact, this is something we discussed in our recent article comparing Acumatica and NetSuite.
Getting What You Need
So, how can you get the product for you? How can you see through the hype and embrace the benefits? In our last blog, we discussed how important it is to speak with users about their challenges. We hope you were taking notes, because all that input is vital in building your initial list and shortlist.
Three Necessary Factors for Comparison
While looking at features and costs is one way to look at ERP, another way is to see which delivers a balance of the following three factors—functionality, ease of use, and support.
As you narrow down your list, you need to look at the functionality, the ease of use, and the support provided, as a poor or even average fit for any of these aspects mean that you're spending time and/or money to overcome it.
Functionality: Match the specific functionality that you need today (per your requirements definition) with the ability to adapt the system to change when your needs change.
Ease of use: Evaluate the design of the user interface in how familiar and intuitive it is – it must be simple to learn and easy to use.
Support: Finally, the system developer and/or implementation partner must be reliable, trustworthy, and compatible with your needs and company culture.
Preparing for Presentations and Demos
Once you have a list of a few capable vendors, now it's time to find which one can deliver a perfect fit. Keep your options open, but pay attention to the costs and benefits.
Request Accurate Proposals: Request proposals from the suppliers on your short list. Share your requirements definition and any other information they might need to prepare a proper proposal for you. Make sure that they include all implementation costs including data migration, user training, consultation help, and on-going costs so you can develop a true TOTAL cost of ownership for the time period you designated in your ROI analysis. Not just the initial costs.
Let Vendors Ask Questions: Despite the assumption that a vendor is trying to sell you on something, it pays to let them speak. Invite them to your facility. They may be able to find opportunities to configure the solution more effectively, saving you time and effort.
Watch Demonstrations: Before the demonstration process, discuss what you hope to see with your vendor or implementation partner and invite members from each user community to provide input on whether or not they feel a specific platform will help them do their job better.
Descend Everest with a Partner Who Has Been There
As a channel partner who long helped companies like yours to find their way onto the Everest ERP system, we have since evolved to offer a new product: Acumatica. Many former Everest users have made their way away from the software to a much more user-friendly and functional solution like Acumatica.
At Cloud 9 ERP Solutions, some of our most notable (and vocally supportive) customers are Everest transplants, and as a former Everest ERP reseller, we can certainly tell you that we have seen both sides of the argument and feel that Acumatica ERP is the ideal solution to replace it.
"We decided to move forward with Acumatica in April of 2017. We are more than satisfied with our partner Cloud 9 ERP Solutions. Gregg and his team have demonstrated a level of professionalism and patience during the implementation process that was second to none. We see great efficiencies compared to our previous ERP, Everest. We look forward to continuing the growth of our company with Cloud 9 ERP Solutions by our side." - Rey Pena (President, Supermarket Source)
Offering better technology, more flexibility, and a vision toward the future, Acumatica provides user-friendly and functional alternative to Everest ERP and we have been the leader among implementation partners helping clients move from Everest to Acumatica. Learn more about this Everest ERP alternative.
Learn more about the true cost of ownership of ERP using this helpful ROI guide and watch a demo by clicking below.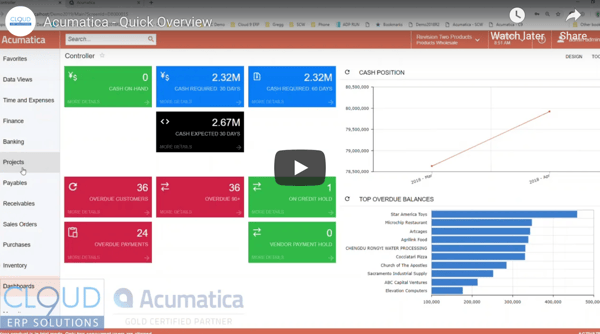 View all Acumatica videos.