Using ERP to Break Free from the Excel Trap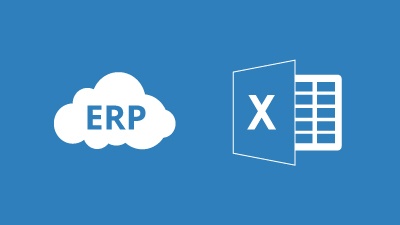 For many finance teams, Microsoft Excel is the comfort zone—a product that "gets the job done" for small and medium businesses, often used to handle the shortcomings of entry-level accounting software. However, as the company grows, the use of Excel loses its value as a helpful tool—no matter how tightly some users cling to using the software.
Are You Stuck in an Excel Trap?
This presents a challenge for many leaders who are looking for a change in their financial management, accounting, or enterprise resource planning applications—convincing users to break away from this comfort zone for a more effective, efficient, and ultimately user-friendly software is a surprisingly hard sell. This "Excel Trap" hinders collaboration, creates silos, and cripples growth—but people still like the spreadsheet software because it's familiar.
In a recent CIO Article, 6 ERP Trends for 2018, Acumatica's director of product marketing, Ray Rebello, discussed this Excel trap that many companies have found themselves in—a mishmash of laborious, time consuming, and often broken processes:
"[Company] had separate financial report writing software and massaged data within Excel, which meant they often had to re-create reports each month manually," he says. "They used a Microsoft Access custom program to handle POS transactions with each location having its standalone databases that included inventory. Because this data didn't connect to the company's ERP system, it had to be moved over manually."
As your company grows, this only becomes more prevalent, more painful, and harder to change. Objections such as "we can't make a change now, it's too complicated" and "this is part of our processes" begin to appear among naysayers who are opposed to the massive technological and cultural shift that is an ERP upgrade.
Whether the fear is generalized (some people just don't like change) or specific (your self-proclaimed 'go-to Excel guy' fears losing his job), the mention of a change away from the comfortable-yet-wasteful processes is likely to be met with backlash.
As mentioned in our blog, The Status Quo is Sometimes a No-No,
"There is a reason most of us don't wear clothes from the 1970's anymore...it was the status quo back then, but now...not so much.
The same can be said regarding your Financial and Operational Software. It may be hard to see sometimes, since that's all you've known. Systems that don't talk to one another, manually taking data from one system and inputting into another, lack of reporting tools. Or reporting that requires a Cobol programmer to write and maintain it."
Getting out of the Excel Trap
This mentality of being too busy for change is dangerous, because growth will only mean more work. More work, combined with the already business-straining processes, puts businesses using Excel for reconciliations, reporting, planning, and more at a severe disadvantage against competitors who have taken steps to improve their technology stack, able to simplify and streamline repetitive processes and refocus their team's efforts on more valuable work.
Getting out of the Excel trap is no easy job, but if you're here, it means that you've realized that you are stuck in this trap and it's time to start looking at a switch. At Cloud 9 ERP solutions, we have helped companies like yours to get out of the traps leveled on them—whether it's from improperly sized, outdated, or poorly designed software for your business needs, we can help you move forward and revitalize your business with the right ERP solution. As an Acumatica Gold Partner, we are experts in our field, and invite you to learn more about forging ahead by reading our ERP series:
Ready to learn more? Contact us for a free consultation.